Premier League: Manchester City's Samir Nasri enjoys 'a little revenge' against United
Samir Nasri admits he enjoyed "a little revenge" as he helped Manchester City to a 4-1 derby win over United on Sunday.
Last Updated: 24/09/13 6:30pm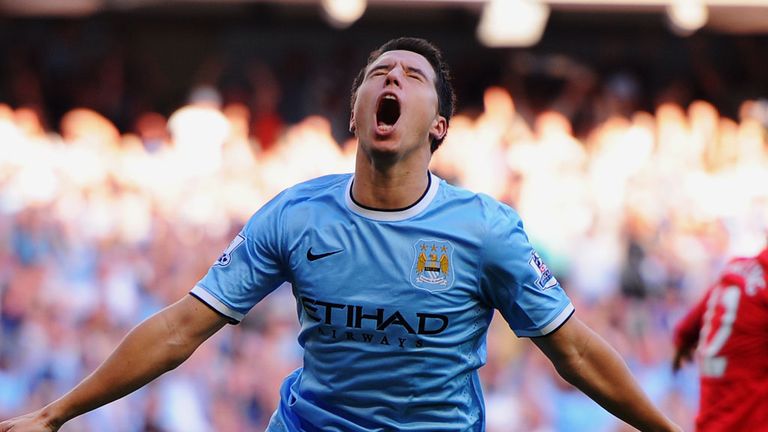 Nasri scored City's fourth goal in their emphatic triumph over the reigning Premier League champions at the Etihad Stadium.
It was a far cry from last season's equivalent fixture in December, when Nasri turned away from Robin van Persie's injury-time free-kick and diverted the Dutchman's shot past his own goalkeeper Joe Hart, sealing a 3-2 win for the visitors.
"It's a different feeling from last year, and a different feeling for me as well," said Nasri.
"Last year I was involved in the third goal in a bad way, so this was a little revenge. I just want to share this moment with our fans.
"Last year was a little bit sad because we were losing 2-0 and came back, but in the last minute Robin scored that free-kick.
"This year it was not the same scenario, and we are very happy."
Statement made
The France midfielder has made an impressive start to the season under new Manuel Pellegrini, having also been on target in the opening-weekend win over Newcastle.
The 26-year-old believes the manner and size of City's victory on Sunday is "a big statement" to the rest of the division.
"We have sent a message to our rivals that this year we can be a force. To win like that is always special," he added.
"We showed what good players we have in our team because we put in a very good performance."
"It was important to win this game, for ourselves as well as for the fans, because Arsenal won as well, and moved to 12 points."
Nasri believes the professional approach City took to their Champions League opener away to Viktoria Plzen last week set them up perfectly for the derby.
"We won our first game in the Champions League, which gave us confidence and we have trained really well," said Nasri.
"When you arrive at the game you have confidence, because you know what you can do.
"It was exactly that kind of game. We played our own kind of game, and won 4-1.
"At Stoke, it was difficult because we came back from being with our national teams for 10 days, and had players who had travelled all over the world, so when you come back you are not really fresh.
"But the win in Plzen made us really confident, and we did exactly what we had prepared for in the week."
After City's Capital One Cup tie with Wigan on Tuesday night, they travel to face Aston Villa in the league before then entertaining European champions Bayern Munich next Wednesday.