Premier League: Alvaro Negredo happy he swapped Sevilla for Manchester City
Manchester City striker Alvaro Negredo is happy with how he has adapted to life in the Premier League.
Last Updated: 27/09/13 6:46am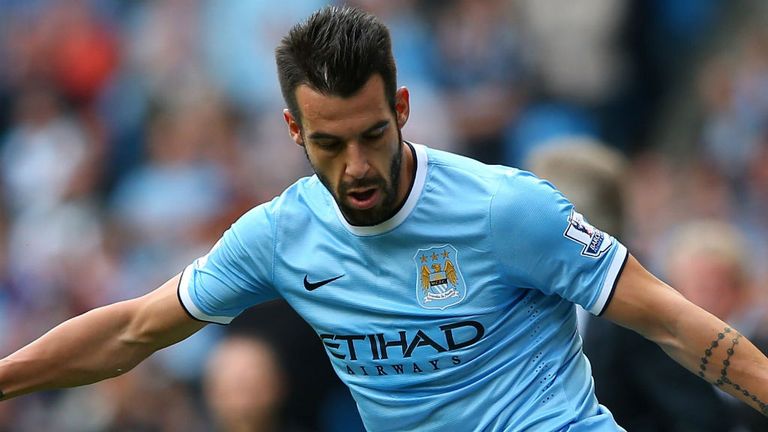 The 28-year-old joined City from Sevilla in July in a deal worth £20million, and he has made an instant impact with goals in two of his first three appearances.
Manuel Pellegrini has named him in City's starting line-up in their last two league matches, and Negredo is confident he can keep the goals flowing.
"I was very happy in Seville but I'm pleased with the move I made," he said. "I feel good over here and I feel I have adapted well to the English game, I really like it.
"It's just what I was expecting - a lot of coming and going, the players have so much quality that they can keep the ball, you have to keep on running.
"It's very intense but I am happy, it's to my tastes and hopefully I will keep getting better."
Negredo is looking forward to developing his strike partnership with Sergio Aguero.
"I really enjoyed playing with him, he's very talented," he added.
"The way he controls the ball, the things he can do with it... he has amazing technique.
"I hope to continue to play with him in this team."
Negredo earned the nickname "The Beast" for his powerful style of play in La Liga, and he hopes to live up to that reputation in England.
"It's a nickname I like. It was given to me while I was playing in Spain so I hope they can call me that over here as well," he added.
"Hopefully the way I played against United will convince them to do it. I will be happy if they do.
"I always enjoy a physical battle. (Nemanja) Vidic is a very strong player, very aggressive but I enjoyed that sort of contact with an opponent.
"As long as opponents play fair it's not a problem to me because I'm always ready for the challenge"