Champions League: Micah Richards hailed Bayern Munich after Manchester City's 3-1 defeat
Micah Richards admitted it is "back to the drawing board" for Manchester City after they were beaten by Bayern Munich.
Last Updated: 02/10/13 10:27pm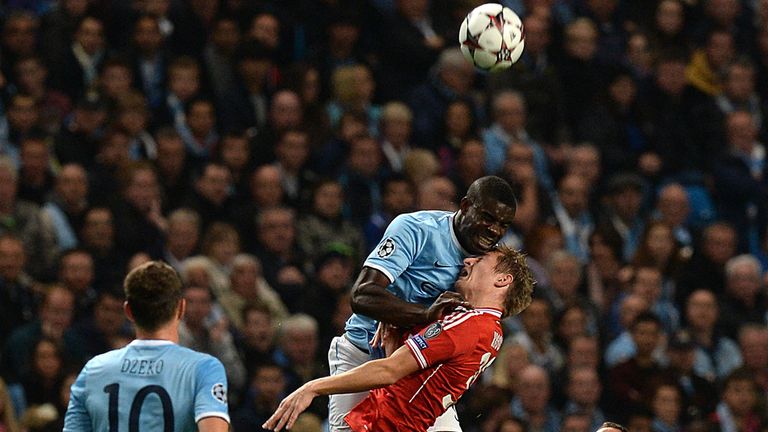 Franck Ribery, Thomas Muller and Arjen Robben gave the reigning champions a 3-1 win in Wednesday night's Group D clash, despite Alvaro Negredo's fine consolation goal and Jerome Boateng's dismissal.
And Richards told Sky Sports 2: "We knew they're a really good team and they showed that tonight, that's why they're champions.
"I thought Ribery and Robben were excellent. They didn't play with a striker as such and the movement in midfield was where the game was won."
City's defending was poor at times, with left-back Gael Clichy glaringly culpable for Muller's goal and goalkeeper Joe Hart twice beaten at his near post.
Richards added: "We tried. We've had a lot of games and there were a few tired legs tonight but we're a lot better than that.
"It's back to the drawing board now."
Robben revelled in his side's dominant performance and said: "It was very good, the first 70 or 80 minutes in particular we played terrific football.
"To be so dominant against such a big team, we didn't expect an easy game like that. I think it's also a big compliment to our team but I expected a bit more from City.
"We didn't give them any space, we pressed them and they had a lot of balls they kicked away and we could start again. They sometimes gave us a little too much space and we are a team who can use the space very well."
It was Bayern's second successive win to start their title defence, while they also have six wins and a draw from seven Bundesliga games.
Robben said: "We have to stay with both feet on the ground, it's only the beginning of the season but we can be happy with tonight's performance.
"You have to enjoy it, when you've played such football it's really nice."