Manchester City complain to UEFA over alleged racist chanting aimed at Yaya Toure in Moscow
Manchester City will make an official complaint to UEFA over alleged racist chanting aimed at Yaya Toure in Moscow.
Last Updated: 24/10/13 9:06am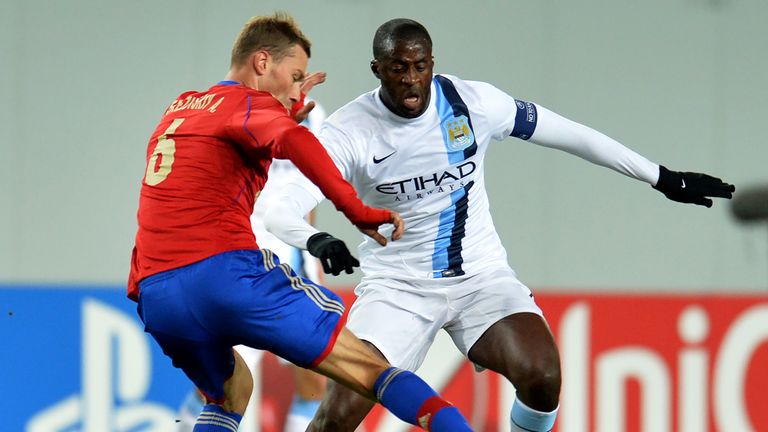 Sergio Aguero struck twice as City came from behind to secure a 2-1 win in the Champions League Group D game but some of the gloss was taken off the victory by the unpalatable actions of the home support.
Toure spoke to the referee and City officials spoke to UEFA's match delegate after the match at the Arena Khimki and the club will make a written complaint on their return to Manchester.
Toure told Sky Sports: "I told the ref. I think it was unbelievable and very sad. We want to stop that.
"I think UEFA have to do a lot to try to stop it. Maybe close the stadium for a couple of games. As an African player, it is always sad when you hear something like that.
"For me, as captain, I was wearing an armband which said 'no to racism' and I was totally disappointed.
"It's stupid these people. I don't know, it just happens in football. It's unbelievable. They're stupid, they're just stupid. UEFA has to take action to right it otherwise I think they will just continue."
City manager Manuel Pellegrini added: "It's a pity and I hope we have the right measures."
FIFA vice-president Jim Boyce called on the Russian authorities to clamp down on racism.
"The Russian federation have got to assure - along with the Russian government - that these incidents are put to bed because it's happening too often. Too much abuse has been happening in many, many parts of eastern Europe," he said.
"Eastern Europe have problems, but we have problems in other parts of the world as well. It's got to be eradicated and the only way is to take serious action against the people who do it - don't allow them to watch football matches.
"I am absolutely appalled by events of this evening. I've always been outspoken against any form of racialism or sectarianism in sport."
The incidents in Moscow comes 18 months after Porto were fined £16,700 for their fans' racial abuse of Mario Balotelli during a Europa League game against City.
Toure took to Twitter after the game to make his feelings known, with the City midfielder putting his faith in UEFA to take action.
Thank you for your support! Hate or racism cannot affect me when so many people are showing me love and support on a daily basis!

- yaya toure (@Toure_yaya42) October 23, 2013
I believe in football institutions, I know decision makers will take their responsibilties and show A RED CARD TO RACISM

- yaya toure (@Toure_yaya42) October 23, 2013
Piara Powar, executive director of the FARE Network (Football Against Racism in Europe), believes UEFA has been moving in the right direction on such matters.
He said: "UEFA have changed their rules and already this season sanctions are harder than ever before.
"For a first offence you face a partial stadium closure; for a second offence your stadium will be closed for a match.
"It's taken a long time to get here, but I think we are seeing some movement on the sanction side.
"In terms of education, I don't know how long that's going to take, to educate fans like we've seen at CSKA."