Steve Howey: UEFA should ban clubs from Europe if fans racially abuse players
Steve Howey of the 'Show Racism the Red Card' campaign says UEFA must get tough with CSKA Moscow.
Last Updated: 24/10/13 5:05pm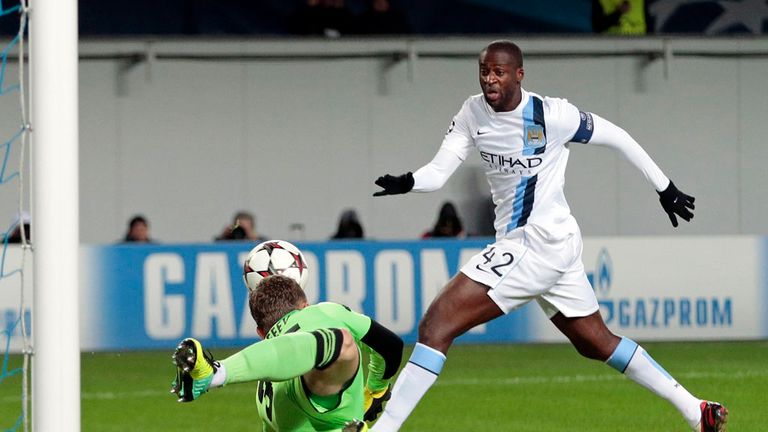 Toure alleges he was subjected to monkey chanting during Manchester City's 2-1 UEFA Champions League victory over CSKA in Moscow on Tuesday night.
City say they will make an official complaint to UEFA about the abuse, but the Russian club says there is no case to answer, and that Toure is mistaken.
CSKA's deputy media manager, Michael Sanadze, told Sky Sports News: "There is no subject to discuss. Nothing special happened.
"There was a lot of noise in the stadium. Nobody else, other than Yaya Toure, heard anything. The only trouble that has come about was because Yaya Toure heard something."
Former Newcastle keeper Howey told Sky Sports News: "It was absolutely disgraceful. And for me the retort that came out from CSKA Moscow was bordering on the ridiculous. How he couldn't hear that is beyond me. We could all hear it at home and Yaya Toure was pointing it out to the referee.
"For him (Samadze) to say that comment is just absolutely ridiculous."
Howey said UEFA must now take action against CSKA and other clubs whose fans behave in that manner, with bans from Europe on the agenda.
"It's a huge opportunity - giving these clubs fines is not enough. The fines are a pittance when you consider how much these club owners have," Howey said.
"Surely we have enough cameras in the ground to go round and identify these people and ban them for life. If that doesn't work then unfortunately it has to be a situation where FIFA has to make a stand, UEFA has to make a stand and maybe ban them from Europe.
"We've seen, time after time, in Russia this behaviour. The clubs have to realise that if their fans behave in this kind of way there will be major consequences. It's time to put the foot down. "