Martin Demichelis determined to win regular role at Manchester City
Martin Demichelis claims to be free of injury and ready to stake a claim for a regular role at Manchester City.
Last Updated: 29/10/13 12:22pm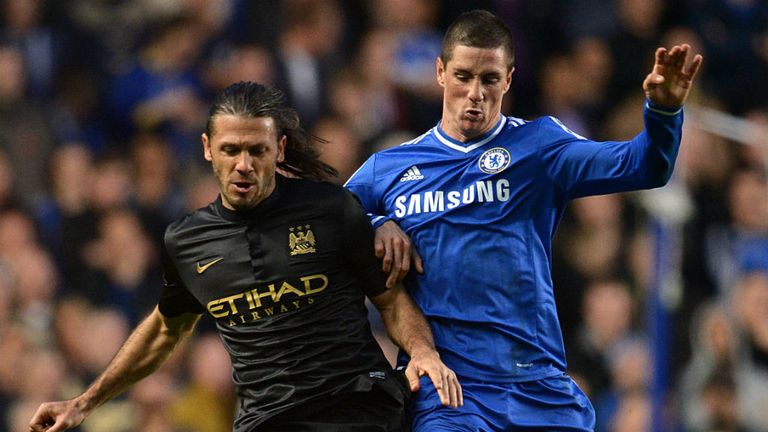 The Argentine defender has had to be patient since completing a summer switch to the Etihad Stadium, with a knee ligament problem keeping him on the sidelines.
A belated debut was made on Sunday, as City suffered a dramatic 2-1 defeat at Chelsea.
The 32-year-old is delighted to be up and running in a City shirt, but insists there is much more to come from him and he has no intention of being merely another member of a talented squad.
Ahead of Wednesday's Capital One Cup fourth round clash with Newcastle United, Demichelis told the Manchester Evening News: "I feel like I am a 20-year-old again.
"It's a great experience to take part in the best league in the world.
"I have a lot of ambition, and have not come here to take a secondary role. I want to be part of the team and am confident I will do it.
"The knee feels really good and I feel I am fit and ready to play at Newcastle, but it is the decision of the manager."
Demichelis is convinced he can handle the demands of Premier League life and is delighted to be working under Manuel Pellegrini again - with the City manager having snapped up a man he worked with at Malaga in a bizarre deal which saw Atletico Madrid land a £3.5million fee for a player they had only signed themselves on a free transfer in mid-July.
"It's part of life, and it was my destiny," said Demichelis.
"When I joined Atletico Madrid I didn't know that Manchester City were interested in me, so that is why I accepted the offer from Atletico.
"When I arrived there, I heard about City and was keen to come here to work with Pellegrini again. I appreciate the effort City made to bring me here, so I want to repay them by helping them win titles."
He added: "I am very happy in Manchester - I obviously had a very difficult start as I picked up an injury, not the best beginning to life at a new club.
"But I have worked really hard to be back with my team-mates. I have a lot of experience and know injuries are part of the game."