Champions League: UEFA disciplinary board to discuss CSKA Moscow-Yaya Toure case
UEFA's disciplinary board will meet to discuss the fate of CSKA Moscow after alleged racist chanting towards Yaya Toure.
Last Updated: 31/10/13 5:49am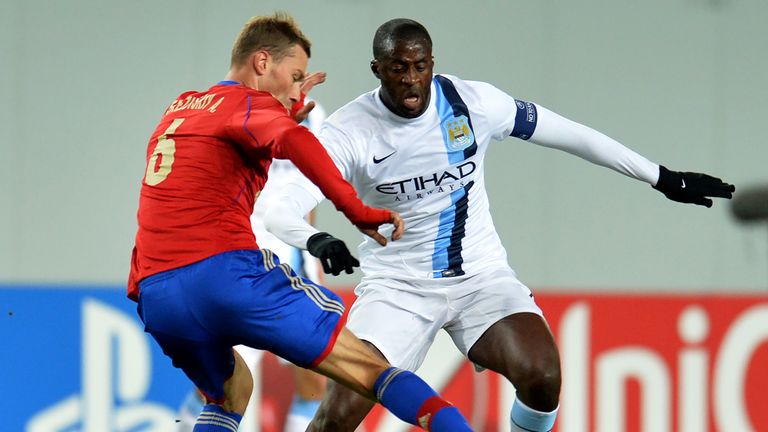 Midfielder Toure claimed he was the target of monkey-chanting from the home crowd inside the Khimki Arena last Wednesday during Manchester City's 2-1 win in the Russian capital.
The 30-year-old reported the incident to referee Ovidiu Hategan during the game and UEFA responded by charging the Russian club with "racist behaviour of their fans" the following day.
A seven-strong panel, headed by Austrian chair Dr Thomas Partl, will meet at UEFA's headquarters in Nyon, Switzerland, on Wednesday afternoon to decide whether Toure was abused.
The hearing, which is held in private, will look at documentary evidence submitted by both sides. Neither Toure nor any representatives from the two clubs involved will be present.
It is understood that City have been busy compiling evidence from independent observers who were at the game to support written submissions from Toure and any City players who heard the alleged chanting.
Last season UEFA agreed to implement hardline punishments on racism after years of criticism surrounding their handling of the matter.
Under the new rules, CSKA will be forced to close part of their stadium for their next Champions League home game against Bayern Munich on November 27 if found guilty and they could also face an additional punishment in the form of a £43,000 fine.
Although a partial stadium closure is the punishment laid out in UEFA's guidelines for a guilty verdict, former FA compliance officer Graham Bean says there is potential for a stronger penalty.
"My understanding of the situation is, that they can issue a partial closing of the stadium, but then they can do other penalties they feel are appropriate in the circumstances," he told Sky Sports News.
"As we all know, what aggravates the situation in relation to the Moscow/Manchester City issue is the fact that there was clear evidence that racist abuse was taking place and yet the Russian club have had the audacity to deny that anything untoward took place.
"I think that will seriously go against them in terms of how UEFA look at it."
Discipline
The new disciplinary measures came in to force at the start of the season that allowed UEFA to dish out more severe punishments for racist behaviour among fans.
Here, we take a look at examples of the clubs who have already breached the expected standards.
Dinamo Zagrab v FC Sheriff - Champions League - July 30, 2013
Dinamo were the first Champions League side to be sanctioned under the new rules. They were ordered to play one European home game behind closed doors following two claims of racist behaviour and the Croatian club were also hit with a £60,000 fine.
Honved v FK Vojvodina - Europa League - July 18 & 25, 2013
Honved became the first club to be hit with a full stadium closure under the new rules. UEFA ruled that the Hungarian club's fans had chanted racist songs at the Vojvodina players during both legs of their second qualifying round match. Because they already had a suspended ban for racist chanting, Honved were told to play two European home matches behind closed doors and were also fined £42,800.
Legia Warsaw v Steaua Bucharest - Champions League - August 21 & 28, 2013
Legia were hit with a fine of £128,500 after they were found guilty of racist chanting in both legs of their Champions League play-off against Romanian side Steaua. The Polish club were also found guilty of racist chanting during a previous game against Molde and thus were ordered to play two UEFA matches behind closed doors, with half of the suspension [one game] deferred for five years.
Lazio v Legia Warsaw - Europa League - September 19, 2013
Lazio were ordered to play their following group stage match behind closed doors after being charged with racist chanting and displaying an inappropriate banner, among other charges. The punishment was reduced on appeal, with the Italian club forced to close just one section for their game against Apollon Limassol and forced to pay £34,100.
Apoel Nicosia v Eintracht Frankfurt - Europa League, October 3, 2013
The south stand of APOEL's stadium will be closed for the Cypriot side's home game against Bordeaux next month after the club were found guilty of a number of offences, including the use of laser pens and fireworks. The most serious charges however related to racist chanting and inappropriate banners, leading to APOEL being fined £34,100.