Premier League managers blast UEFA's CSKA punishment over Yaya Toure racism
Premier League managers have reacted with disappointment to the punishment handed to CSKA Moscow.
Last Updated: 31/10/13 6:41pm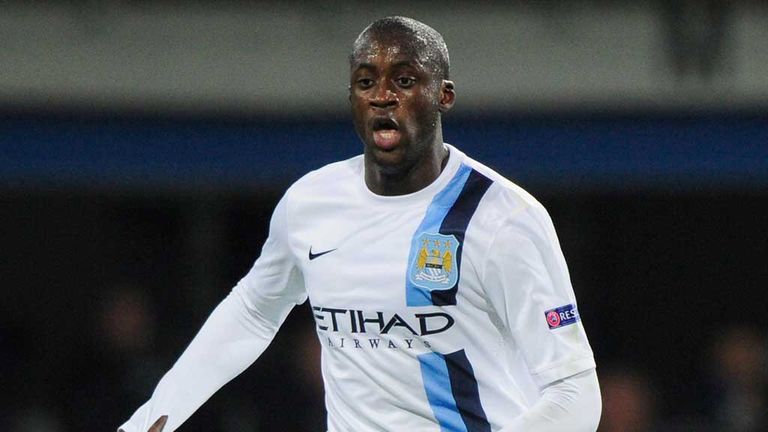 The Russian club was charged after Toure complained he had been the target of monkey chants during City's 2-1 win on 23 October.
CSKA denied the claim but UEFA opened disciplinary proceedings and subsequently ordered their next Champions League home game to be played in a partially-closed stadium.
One end of the Khimki Arena will now be shut when Bayern Munich visit on 27 November but Premier League bosses believe such sanctions are not sufficiently severe.
"Not enough, it's just not enough," West Ham manager Sam Allardyce said when asked for his reaction to the punishment.
Newcastle boss Alan Pardew said: "I think UEFA and FIFA need to have a policy that is strong, very strong. I think it's becoming an issue in stadiums in certain parts of Europe that needs to be addressed and the only way to address it is with incisive action.
"We've done that in this country and we've done pretty well at it. Hopefully they can put something in place that eradicates that because it's the last thing anyone wants to see in modern society."
Liverpool boss Brendan Rodgers and Norwich manager Chris Hughton - himself the subject of alleged racist abuse on social networking sites - said the speed at which UEFA had acted was to be commended.
"What they have done is acted very quickly," Hughton said. "Clubs are now aware of what can happen and I'm quite sure that if it does continue to happen, the sanctions will get stronger."
Rodgers said: "I think it's a start. The more awareness of these types of issues - he was brave, Yaya, to come out and do what he did - is another step towards eradicating it."
The governing body announced in May that racist incidents involving spectators would be applied for the first offence, with a second incurring a full stadium closure and a fine of 50,000 euros (£43,000).