Stoke goalkeeper Asmir Begovic says Roberto Mancini wanted him at Man City
Asmir Begovic has revealed that he was close to joining Man City earlier this year, according to reports in Bosnia.
By Jure Bohoric
Last Updated: 05/11/13 10:56am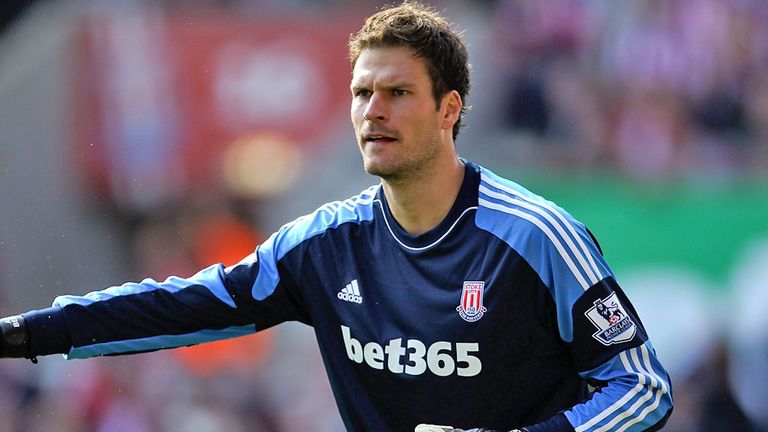 Leading daily Dnevni Avaz quotes Begovic as saying that former City chief Roberto Mancini was close to taking him to the Etihad Stadium this summer.
Mancini's former assistant David Platt stated earlier this summer that they wanted Begovic, and now the Bosnian has also revealed a deal was close.
However, Mancini was sacked by City before the end of the season and Begovic says that was the main reason a deal did not happen.
"As players, we are the last to find out things, probably our agents and club officials find out first without talking to us, then at the latter stage of negotiations they will tell us," he is quoted by the Sarajevo-based newspaper.
"As for Manchester City, when Mancini was on the bench, we were very close to an agreement.
"The transfer was not realised due to several reasons but the main one was the departure of the Italian manager."
A host of goalkeepers are being linked to City after England number one Joe Hart was dropped this week, and Begovic's name is again being mentioned, but he says he is more than likely to stay at Stoke to protect his place with Bosnia, with the World Cup finals on the horizon.
"Could I still move to City? I really don't know if negotiations between clubs are still ongoing but for me probably the best thing would be to stay at Stoke City until the end of the season as in that way I would be truly ready for World Cup in Brazil."
Hughes
Begovic is also full of praise for new Stoke boss Mark Hughes, who took over from Tony Pulis in the summer.
"He is wonderful, a real manager who takes care of everything," he continued.
"He was a great player, his standards are extremely high. Often in training he can still show things to the players, he is still in great shape and form."
Begovic believes Hughes was a very good appointment, adding: "Although the current results are not the best, I think Stoke did a great job of bringing Hughes and we are playing much better football."