Transfer news: Edin Dzeko hoping to get more game time at Manchester City
Edin Dzeko is not looking for a way out of Man City but admits that situation may change if he is not a regular starter.
Last Updated: 09/11/13 10:23am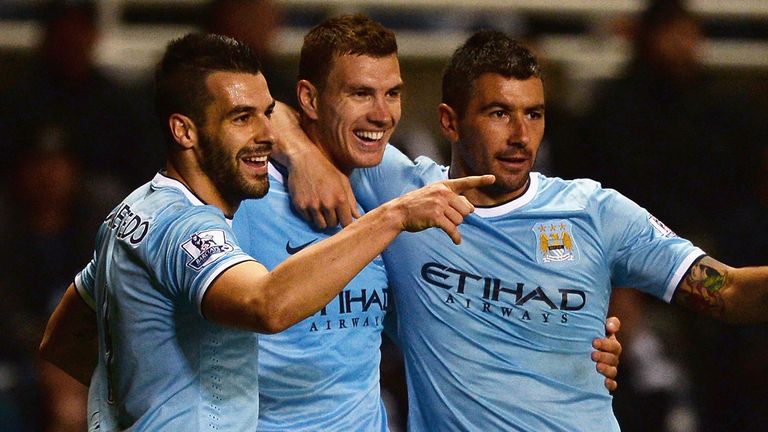 The Bosnian frontman has been part of the set-up at the Etihad Stadium since January 2011, and has provided a steady stream of goals throughout his time in England.
He has, however, struggled to make himself one of the first names on the team sheet - with Roberto Mancini and Manuel Pellegrini favouring other options.
Dzeko believes his performances when he has been offered an opportunity to shine justify a longer run in the side, but with Sergio Aguero and Alvaro Negredo providing stiff competition he is often left frustrated.
The 27-year-old is prepared to remain patient, as he is tied to a contract until 2015, but admits there is no way of knowing what his long-term future will hold.
"It could be better on both sides, for me and the team, definitely," Dzeko told the Daily Mirror when asked for his assessment of the 2013/14 campaign for himself and City.
"There are a lot of players and everyone has to get a chance to play, so maybe that's why. Who knows?
"But I need to play more than I am. I've only started four games in the Premier League. But if you put me in there for 90 minutes, everything is possible.
"The first game of the season I played well, I just didn't score. The second game I scored, then the manager changed me. I don't know why.
"Then in the third game he changed me at half-time. Again, I don't know why. The team played badly in the first-half, for sure, but it's always on the strikers if it doesn't go well.
"So I think I could definitely have played more than I have done. It's difficult because you don't have a run of games, then you come into the team after maybe four games and sometimes you want to do well, but you can't do it.
"For three games in the Premier League I didn't play at all. That never happened last season. I didn't go three games without any minutes.
"There's Champions League and Capital One Cup also, but that's not enough for me.
"It's important to hear from the manager when you're not playing. Why are you not playing? What do you have to do better to play? So we're talking about that.
"For every striker it's important to play 90 minutes, not 45, then 50, then maybe 15, you know? But I'm still here and I still have 18 months left on my contract. But you never know what can happen in the future."