Premier League: Manuel Pellegrini remains positive on Manchester City's title chances
Manuel Pellegrini admits Man City's away form is concerning, but remains optimistic regarding their title chances.
Last Updated: 11/11/13 3:04pm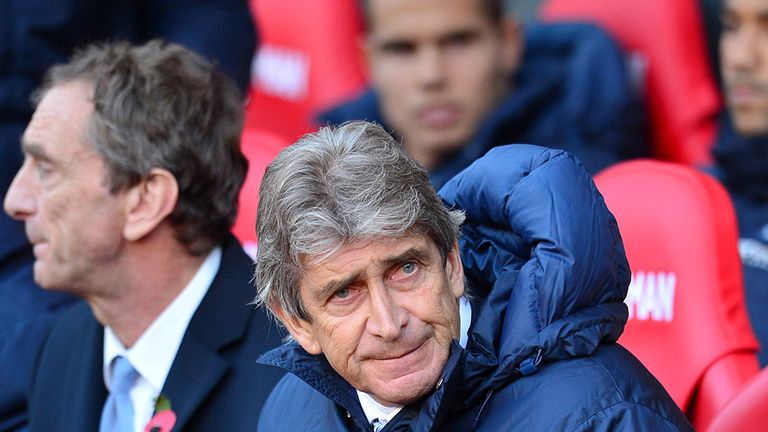 A 1-0 reversal at Sunderland on Sunday was City's fourth setback on the road this season.
Their only success in the league away from the Etihad Stadium came against West Ham United, with four points taken from 18 on offer.
Only a 100 per cent home record is keeping the Blues in the hunt for the Premier League crown, but they have slipped to eighth place in the table - six points adrift of leaders Arsenal.
Pellegrini concedes that a cure to the travel sickness must be found, and quickly, but the Chilean is convinced that City can still work their way to the top of the pile.
He said on the back of another disappointing display at the Stadium of Light: "I'm concerned because we are losing too many points away.
"Of course that makes winning the title very difficult because if you don't win away, then it is hard to try to fight for the Premier League.
"I don't think we are playing badly, but we must improve. If we can do that then I'm absolutely sure that we're going to win the league.
"My reaction is very similar to the other games we have lost away from home - it's incredible the way we lost the match.
"Sunderland played really well, particularly defending, especially for a team that is in a really difficult position.
"So I understand the way they played, but they had just one chance at our goal and they scored. We had all the possession, we had all those chances, but didn't score."
But Sky Sports' Jamie Redknapp found himself questioning the attitude of some of the City players after the defeat.
Speaking on Super Sunday, Redknapp said: "I think the City players must think when they go away they're just going to turn up and play and teams will roll over - it just doesn't work like that.
"Yes they're missing David Silva, of course they miss Vincent Kompany but they still have so much money you expect so much more from their players.
You could have given the Man of the Match award to any of the Sunderland players in a red and white shirt, they were amazing. They played football under pressure, they dug in and rode their luck at times."