International news: Jack Butland has sympathy for England goalkeeper Joe Hart
World Cup hopeful Jack Butland insists he takes no joy from witnessing the troubles of England colleague Joe Hart.
Last Updated: 13/11/13 7:23am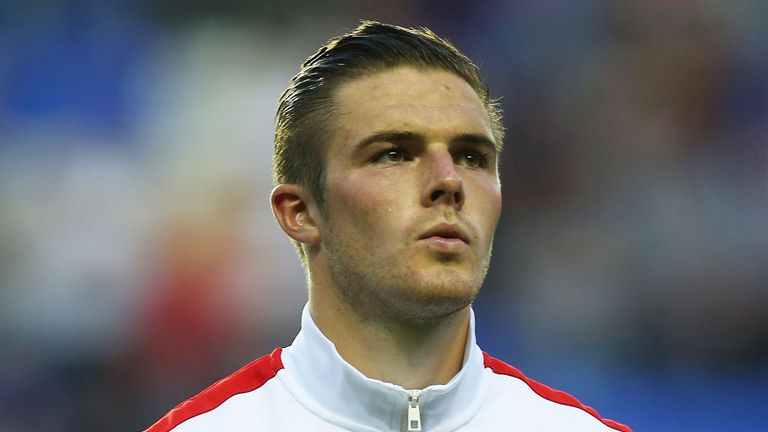 The Stoke goalkeeper, currently on loan at Barnsley, has one senior cap to his name and, although he is currently captaining the Under-21s, he would obviously love to be included in Roy Hodgson's squad for Brazil next summer.
However, he wants to earn a place on merit and not benefit from the mishaps and tribulations of those above him in the pecking order.
Hart is currently in the spotlight for a number of high-profile errors which has led to him being dropped by Manchester City, even though he retains the full support of Hodgson at international level.
Far from thinking how he may benefit, Butland has nothing but sympathy for his counterpart.
"I know Joe very well. We speak every now and again but I gave him space for the last couple of weeks (because) the last thing he wants is people telling him things he already knows," he said.
"He's fully aware of the situation but if there's one thing I know about him it is that he will be absolutely burning inside to get back playing.
"I'm sure this short stint out of the team will make him even stronger.
"He will come back even better than he ever has done before in the World Cup year.
"I have total confidence in him, he has had a tough time and when you have the England number one tag it brings a lot more pressure and attention.
"He's dealt with it fantastically as England's and Manchester City's number one.
"I don't want to see him do badly. I sympathise with him because I've made mistakes and know how it feels.
"I want to succeed on my own merit but sometimes those opportunities come around because of situations like this.
"I was very fortunate to make my debut when Joe was injured against Italy (in August 2012); sometimes little opportunities come around and you have to take them.
"I don't know what it feels like to be in his position right now and that's where I want to get to."
Crazy
Butland, who will lead England's Under-21s in Euro 2015 qualifiers against Finland and San Marino in the absence of the suspended Andre Wisdom, accepts being England's first-choice goalkeeper automatically leaves you open to criticism the moment you make an error.
But he said it is how you handle the pressure which is important.
"Is the England goalkeeper the hardest role in British sport? Yeah, I suppose you have to be crazy to be a goalkeeper. That's what people say," he added.
"But you do get a lot of praise when you're doing the role and he (Hart) rightly has had a lot of praise and been labelled the best in the world, which I think he is.
"With it comes the pressure, if you make mistakes there are a lot of people ready to shoot you down.
"With the incredible line of keepers we've had there's always that pressure but you need that special thing to handle that pressure and I think Joe has that in him.
"I'm not going to comment on (former England goalkeeper) Peter Shilton's suggestion it might be tougher than the Prime Minister's job but it is tough and when you make a mistake, 99 times out of 100 it's a goal.
"When you're a striker you can go on and get a hat-trick. You have to be thick-skinned and deal with it. That's why we all love it."