Champions League: Samir Nasri admits Manchester City 'mistake'
Manchester City's Samir Nasri admits he made a mistake last season by shutting himself away during a difficult campaign.
Last Updated: 27/11/13 11:25pm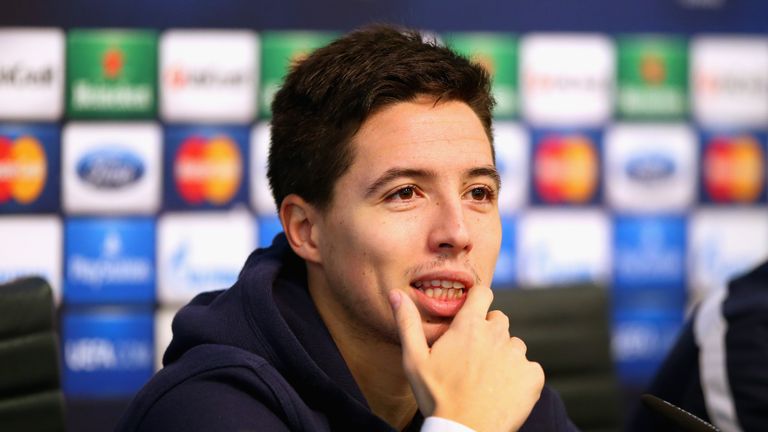 The France attacking midfielder only made 22 starts for City in the Premier League, scoring twice, as Roberto Mancini became increasingly frustrated with his erratic form.
Despite ending the 2011/12 domestic season on a high with City's title celebrations, Nasri endured a tough Euro 2012 in Ukraine as France bowed out to eventual winners Spain at the quarter-final stage.
Nasri lost his temper with a French journalist in Donetsk after Les Bleus went out of the tournament and although he subsequently apologised, he was omitted from the national-team squad for a time.
Back at the Etihad, under Mancini, he struggled to find any consistency and was roundly blamed for Robin van Persie's late free-kick winner in the Manchester derby on December 9.
Mancini even joked that he felt like punching the former Arsenal player, and Nasri admits that it was a tough time.
"Everything he was saying was difficult for me to accept," said the 26-year-old ahead of Wednesday night's UEFA Champions League Group D clash at home to Viktoria Plzen. "It wasn't his fault, it was just me because I wasn't in a good place.
"I wasn't feeling myself. It was a tough season. After the Euro Championships and a beef with the French journalists, for months I refused to speak to anybody and had a lot of bad press in France and I wasn't involved in the national team.
"It was a little difficult. In my head, I wasn't the same. I didn't play well for City and lost my spot in the squad and, at the end of the year, you look at your season and you realise, 'I was not myself'."
Nasri says he even snubbed attempts from his mother Ouassila and father/agent Abdel to talk through his problems.
"At the time, I refused to speak to them," he added. "I didn't want to talk or explain myself. I didn't want to talk about the situation because it was really difficult and it was inside me.
"So you spend all the time thinking. Sometimes when you do mistakes, you don't want to admit it. That was my biggest mistake. Keeping things to yourself is never good.
"So I talked to the people I love and I decided to smile and be happy and do what I do best - playing football, and that is it.
"As a player, as a person, I grew up a lot. I know my mistakes now, and I know what to do to make it right."
Manchester City v Viktoria Plzen is live on Sky Sports 4HD tonight at 7.30pm