Premier League: Manchester City midfielder Yaya Toure says football is a science
Man City midfielder Yaya Toure believes he has made an impression on the Premier League due to his scientific approach.
Last Updated: 04/12/13 1:18pm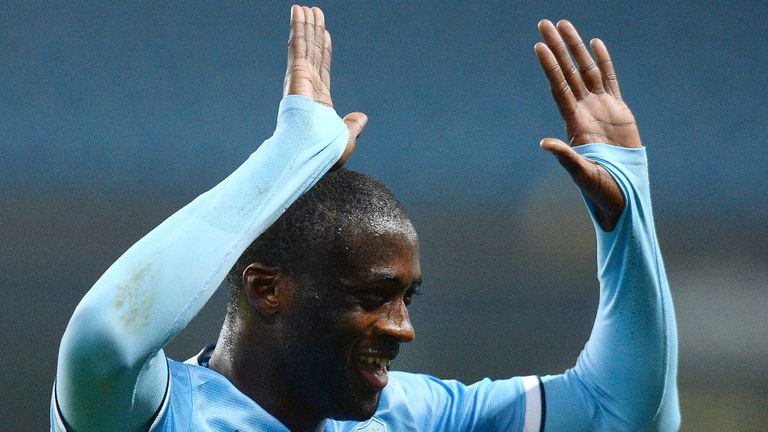 The Ivory Coast international has been a formidable presence in Manuel Pellegrini's side this season, finding the net seven times in all competitions as City look to close the gap on league-leaders Arsenal.
Toure is one of four English-based players amongst this year's Ballon d'Or nominees and he says that his most crucial education in the game came whilst starting his career at Belgian side Beveren.
"At the academy, coach Jean-Marc Guillou was the teacher," he told France Football.
"He taught us how to play, but above all, how to understand football. Because football is a science. If you don't understand, you cannot reach the highest level.
"In football you have to be fit, above all in England. In Spain, sometimes you can walk or make long passes to get a short rest, but not here. I am a 30-year-old so I take care of my body to recover well.
"I admit I spend more time with coaches. Mancini and I exchanged many things. He knew I loved strategic and tactical work. The goal is not to leave any room for doubt or chance.
"I talk a lot with Pellegrini too. He understands what I like. I am a fanatic of this game and constantly looking for explanations, like a professor who wants to constantly complete his knowledge.
"For me, football is primarily a science. A bit like physicists who try throughout their careers to crack a scientific code, I'm trying to break all the mysteries of football."
Toure also spoke of another key moment in the early stages of his career following a discussion with Arsenal boss Arsene Wenger.
"I remember a trial period I did at Arsenal when I was under contract at Beveren," he explained.
"Arsene Wenger told me: 'I can't see you as a defensive midfielder.' I replied: 'I want to be like Patrick Vieira.'
"He finally told me: 'You would be much more at ease to support a forward.' He told me staying in the midfield would be a mess.
"But I was convinced a bit back then that I could blossom. Probably because it would allow me to be just like Patrick Vieira, my idol."