Premier League: Manchester City captain Vincent Kompany delighted with winning return
Manchester City captain Vincent Kompany reported no concerns following his return from injury against West Brom.
Last Updated: 05/12/13 4:26pm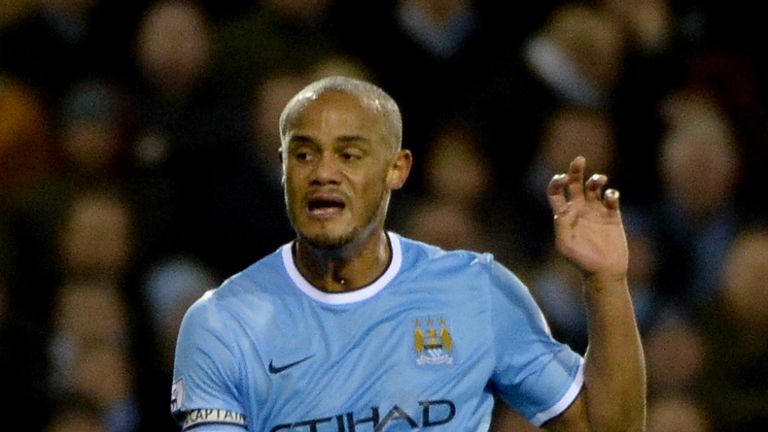 The Belgian defender had spent the last two months on the sidelines battling with a thigh injury.
However, Kompany made his long-awaited return in City's narrow escape against West Brom on Wednesday night.
Despite taking a three-goal lead at The Hawthorns, Manuel Pellegrini's men were made to sweat as they conceded two late goals, before holding out for only their second away win of the season.
Asked if there were any fears of the injury returning Kompany, who last featured in the 3-1 win over Everton in October, told Sky Sports News: "No, nothing."
With stronger competition in the Premier League, Kompany was delighted to see City prevail and believes victory gives them the necessary momentum for a busy Christmas period.
"The only reaction is a big smile obviously," he added.
"It's a massive game for us, any away win in this league is important.
"The teams have strengthened up in the Premier League this season which makes it a little bit harder.
"Having said that, we have such a massive boost out of this game to go into the next one."
Pellegrini's men currently sit third in the table, six points adrift of Arsenal, whom they host in two weeks times after a visit to St Mary's to face Southampton on Saturday.
City also face crucial games against Bayern Munich and Arsenal coming up before Christmas, so Kompany was keen to ease himself back into action gently.
"The most important thing for me was not to try to be a hero. To think that is the biggest mistake you can make," he added.
"Those kind of games are ones where you can make a difference on your own, but we needed a team performance.
"I just tried to slot into the team, to show I could help, and it helps with the team we have."