Manchester City boss Manuel Pellegrini admits he made a mistake on Tuesday
Manuel Pellegrini has apologised for not realising exactly what Man City had to do to top their Champions League group.
Last Updated: 13/12/13 4:33pm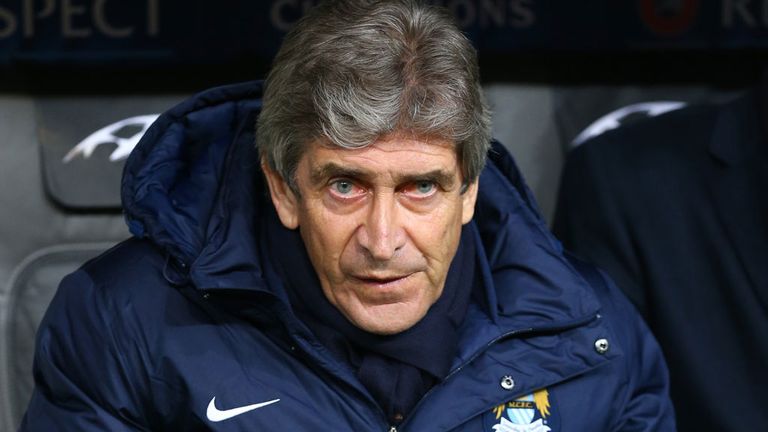 City came from 2-0 down to secure a memorable 3-2 victory in Germany but the win was slightly tarnished by their failure to score one more goal.
A 4-2 victory would have been enough for City to win the group and secure an easier draw in the next round.
But Pellegrini thought a three-goal success was required and did not bring top scorer Sergio Aguero off the bench in the closing stages, a decision which has been heavily criticised.
Pellegrini explained: "It shouldn't have been happening but it is very easy why it happened.
"Before the match I knew we had to win 3-0, because we needed one goal more than they scored here (Bayern won 3-1 at the Etihad in October).
"After they scored the first goal, I thought that 3-1 was not enough because they had a better goal difference. I thought that we had to win by three goals, 3-0 or 4-1.
"When they scored the second goal, I didn't continue thinking about what happened if we scored four goals. That was my mistake, because not many teams score four goals against Bayern Munich.
"I tried to think better about how to arrange the game that we were losing 2-0.
"First of all, I recognise absolutely my mistake, but I don't have any guilty conscience about what we did because we always tried to score the fourth goal.
Pellegrini remains confident
"We couldn't, but remember that I changed (David) Silva after 70 minutes for (Alvaro) Negredo, not for (Vincent) Kompany, not for (Dedryck) Boyata, so we continued with two strikers, trying to score.
"In the last five or seven minutes, Bayern Munich had 80 per cent of possession so we tried with (Jack) Rodwell (who came on with two minutes left) to recover the ball, to attack, not to defend.
"I apologise for me and the team that we couldn't score four goals against Bayern Munich."
Pellegrini added that he is not too concerned about finishing second in the group.
"I am not afraid of who we are going to play in the round of 16," he said.
"I don't believe some teams are weaker than the other teams. I believe the 16 best teams in Europe are all exactly the same for us.
"I think the trust the team has after beating Bayern Munich in their own stadium, that is much, much more important than being first in the group."