Fernandinho: City can beat anyone
Fernandinho believes Manchester City sent out a message with the 6-3 thumping of Premier League leaders Arsenal.
Last Updated: 15/12/13 2:00pm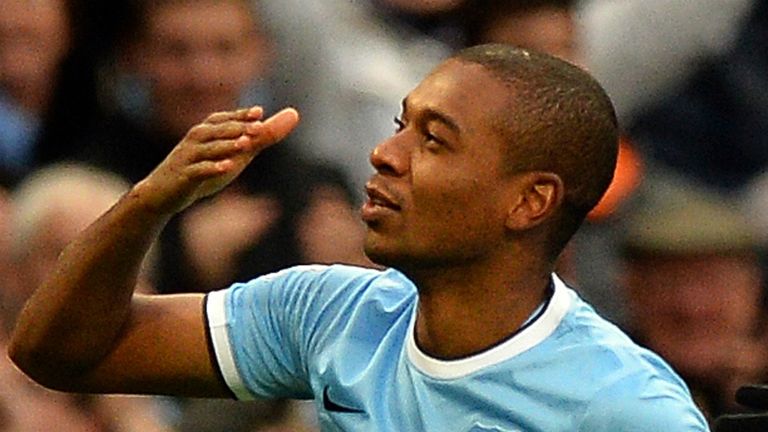 City moved within three points of the Gunners at the top of the standings as they tore into Arsene Wenger's men at the Etihad Stadium, maintaining their free-scoring form and 100 per home record in some style.
Coming just four days after a victory over European champions Bayern Munich, it was another performance which sent out a strong statement about City's ambitions.
Midfielder Fernandinho was at the heart of most of City's good play, capping a man-of-the-match display with his first two goals since his £30m move from Shakhtar Donetsk.
The Brazilian said: "I am really happy to score twice but it is not just about the goals, (it's about) the performance of the team.
"We showed we are a great team, a very good team. We showed we can beat any team. We showed very good football. The performance was incredible.
"It was important, this result, because we keep a short distance between the leader of the Premier League and us.
"I think it is very important for us because we want to be there at the top of the table."
Fernandinho, who hopes his form might earn him a Brazil World Cup call, added on City TV: "It was my best performance, but not just the goals, the whole performance in the 90 minutes.
"I tried to do my best and today I was. I am a lucky guy to score twice," added Fernandinho. "The team are all pleased, all the staff was very happy.
"We didn't just beat the simple team, we beat the leaders of the Premier League. It is not easy.
"We have to celebrate this victory but we must think about the next game as well."
City are back in action at Leicester in the Capital One Cup on Tuesday but then seek to address their underwhelming away league form at Fulham next weekend.
They then host Liverpool and Crystal Palace in back-to-back home games on Boxing Day and December 28.
Fernandinho said: "This Christmas period is strong. We have a lot of games but I think our team is prepared to play very well.
"We work hard every day, every training and the most important thing is we show this on the pitch.
"The team is more consistent, plays better. I hope we can keep it up and be consistent to the end of the Premier League."