Manchester City boss Manuel Pellegrini believes away form is improving
Manuel Pellegrini has defended Man City's away record as their bid to regain the Premier League title gathers pace.
Last Updated: 23/12/13 9:31am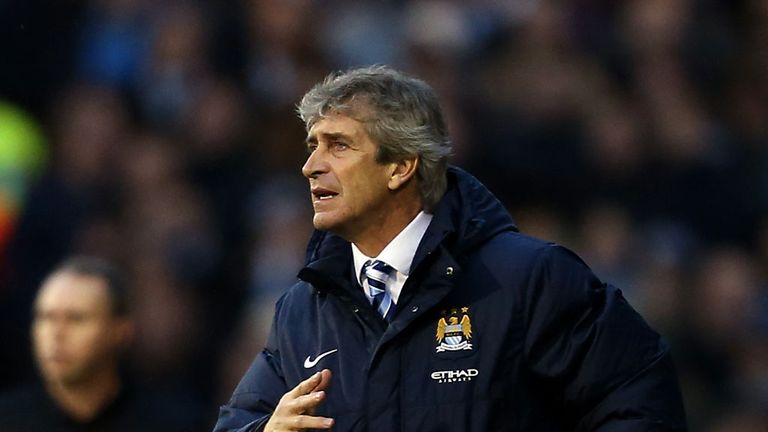 Saturday's 4-2 defeat of Fulham was City's third away win from nine games this season, a statistic which contrasts starkly with their 100 per cent home record from eight matches.
Had it not been for losses at Cardiff, Aston Villa, Chelsea and Sunderland, City would be well clear at the top of the Premier League ahead of the summit meeting at home to Liverpool on Boxing Day.
But Pellegrini insisted his side had proved themselves on the road with wins, including against European champions Bayern Munich, and went on the offensive to fend off critics after his side conceded five times in two games.
"Maybe you give too much importance to when we don't win away," Pellegrini said.
"We won away the three games in the Champions League, two games in the Capital One Cup the last three games we won two and drew one.
"Then everybody is continue talking that we can't win away and now everybody is talking because Arsenal scored three goals and Fulham scored two more, but, I repeat, we are improving.
"If you see a statistic we are the third or fourth best defence in the league."
Fulham fought back from 2-0 down to level through a fortuitous Vincent Kompany own goal before a late City rally and goals from substitutes Jesus Navas and James Milner earned victory.
"I don't think Fulham had many chances to score," Pellegrini said.
"We had very bad luck with the second goal, they scored one goal on the counter attack.
"It is normal when you are attacking for 90 minutes that sometimes with a counter attack the other team can score one goal.
"But I think before they scored their goal we had three or four clear chances to score.
"If we are scoring and the other team has four, five, six chances every game to score then of course I would be concerned. But that is not the reality."
Navas' strike restored City's lead at Craven Cottage and the winger is relishing the showdown with Liverpool on Boxing Day.
"I am very happy to score the goal that gave us the three points," Navas said.
"We knew that Liverpool had won, so we needed to come here and win this match and I am happy that we did it.
"We are full of confidence and if you want to win the Premier League you win have to win at places like this.
"We want to win every match in order that we can challenge for the title and we are extremely happy that we won."
Navas added: "Liverpool are playing very well this season. They are a strong side but we are confident that we can get three points versus Liverpool."