Yaya Toure believes Manchester City will become the "greatest club in the world" within two years
Yaya Toure believes Manchester City will become the "greatest club in the world" within two years.
Last Updated: 23/12/13 8:48pm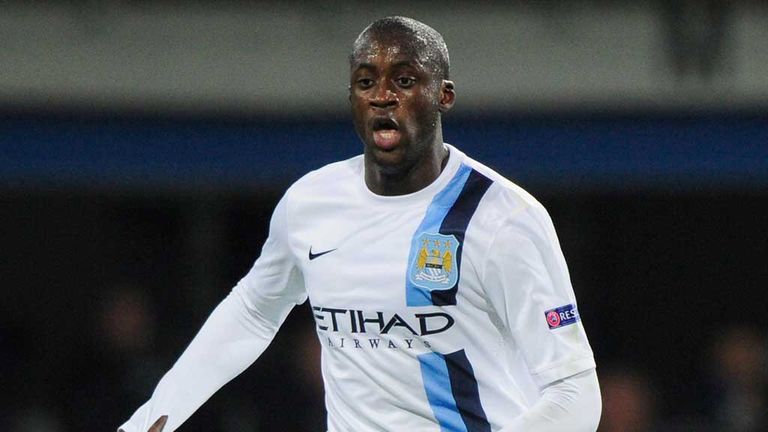 City will face Barca in a mouthwatering UEFA Champions League last-16 clash in February having qualified from the group stages for the first time after two disappointing campaigns in Europe.
And Toure told Weekend Warm-Up on Sky Sports News that everything is now in place to take the club to the next level.
"To make history sometimes it takes longer," said the midfielder. "I am a lucky man to be in the right place because the club have brought in fantastic players. Everything is in a good place to be honest, and I'm sure in a couple of years Man City will become the greatest club in the world.
"[Barcelona] are quite afraid about us, the way they see us play in the PL at home especially, they're quite scared. We play fantastic football and we score goals, it's total attack. But it's going to be a tough game and for us we know if we're to win we need to be at the top of our game."
Toure was full of praise for manager Manuel Pellegrini, who he says is helping to bring the best out of every player.
"Pellegrini is a massive manager and he trusts in any player," he added. "Samir Nasri is in top form now, David Silva is, that's where you can say Pellegrini is a fantastic manager, he gives confidence, it's massive for everyone, he respects everyone, even the guys from the second team.
"Any trophy will be very welcome because we're chasing trophies. To be a top club you have to win trophies. The team we've got and the manager we've got now, I think it's not going to surprise me if we win two trophies this year."
The club's first aim is to win back the Premier League trophy won in such dramatic fashion in May 2012, although Toure accepts there are several clubs in the running after a thrilling first half of the season and expects Manchester United to make a challenge in the new year.
"Arsenal are having a great season, Liverpool as well. My brother is playing there, they have a great manager as well, Brendan Rodgers is fantastic guy," he said.
"Chelsea, Mourinho is there and you know you have to be careful. This year is going to be tough, for the fans and people that love football it's going to be massive.
"United, I'm sure they will come back. Now we know we have a big gap, but they have experience. Of course the manager's changed, but they are a big club and they will come back."