Premier League: James Milner looking for a boring Christmas for Manchester City
James Milner is hoping Manchester City can enjoy a "boring" Christmas, with an emphasis on points rather than drama.
Last Updated: 26/12/13 5:03pm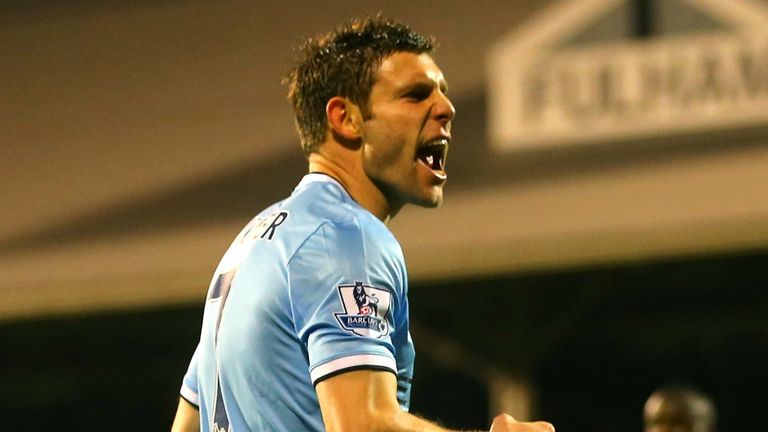 The England midfielder came from the bench on Saturday to seal the Blues' 4-2 win over Fulham at Craven Cottage.
Milner's strike was a 51st goal for City so far this term, making them the Premier League's top scorers, with nine more than leaders Liverpool.
However, despite scoring 10 goals in their last two outings, City have conceded five and Milner is now dreaming of a drama-less Christmas period.
"We'd like to have games that are a bit more boring if we can, maybe a 1-0 or 2-0," he told the Daily Mirror.
"When you are 2-0 up you like to see out the job but it would have been a big blow if we hadn't won, going into Christmas with big games coming up.
"It would have made Christmas dinner taste worse for the fans, so it was good to get the win before two games in quick succession."
Momentum
Victory over Fulham means City are now unbeaten in their last six top flight outings, winning five, which Milner believes gives them added impetus with a showdown against high-flying Liverpool coming up on Boxing Day before hosting Crystal Palace on Saturday.
Although City find themselves in a rich vein of form, Milner insists Manuel Pellegrini's men still have creases to iron out of their performances.
"We now have the momentum to go into those games and hopefully get six points," added the playmaker.
"You can't get anywhere in football without scoring goals but, as a side that's looking to improve, we can improve at the other end, as a team.
"We need to work on the mistakes we are making throughout the team. When we are conceding goals, it's not the team and keeper, it's the whole team."
Character
The Blues got the break 2-0 up against Fulham at the weekend but had surrendered their advantage within the opening 20 minutes of the second half as Kieran Richardson's strike, combined with a comical Vincent Kompany own goal put the hosts right back in the game.
City refused to settle for shared spoils and their persistence paid dividends late on as Jesus Navas and Milner both netted within nine minutes of each other to seal victory and the latter hailed his side's resilience.
"At Fulham we showed character again to get those extra two goals at the end and get the win," he said.
"These are the sort of games you have to win if you want to win the title, so it was really important."
Despite enduring some turbulent away form earlier in the year, City have won all of their fixtures at the Etihad Stadium, a feat which Milner hopes can remain throughout the season.
"We need to get rested for these next two games and hopefully keep our home run going.
"Every game is very important for us. We dropped points earlier in the season, so we need to get a winning run going."