Manuel Pellegrini is surprised by controversy from Manchester City's win at Newcastle
Manuel Pellegrini is surprised by the controversy still surrounding Manchester City's victory at Newcastle on Sunday.
Last Updated: 15/01/14 8:56am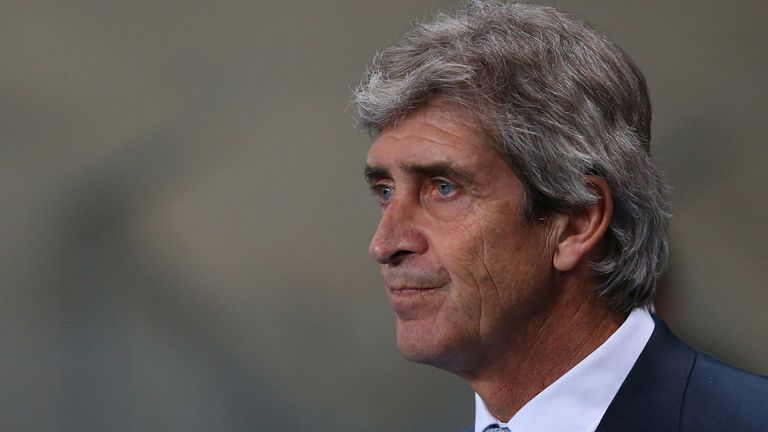 City won the Premier League encounter 2-0 but much of the talk after the game was about a Cheick Tiote goal that was not allowed to stand.
Tiote thought he had made the score 1-1 with a long-range strike, but Yoan Gouffran, who had been stood in an offside position, was adjudged to be interfering with play.
"I am surprised that someone can say that was not an offside, that's incredible," Pellegrini said.
"At the beginning of the season the rules on offside changed and a lot of teams put players in front of the goalkeeper, allowing him to see the ball but always be standing there. The referees said that was offside.
"If you have three players and one moves and steps aside so the ball doesn't hit him, I don't understand how one person can say that's not offside.
"If that is the rule of offside we will never have a player offside because other teams can make a wall for every free-kick inside the six-yard box, allow the goalkeeper to see the ball and when the kick is taken they move, they jump, they duck, they step aside."
Nasri
Of far more concern to Pellegrini, whose team face Blackburn in an FA Cup third-round replay on Wednesday, was the serious knee injury suffered by playmaker Samir Nasri in the same game.
Nasri expects to be out for around eight weeks after damaging ligaments following a bad tackle from Mapou Yanga-Mbiwa.
In a second controversial decision of the afternoon, Jones only showed Yanga-Mbiwa a yellow card.
Pellegrini said: "I said after the game it was an unfair kick and he didn't need to do it.
"He just tried to make a foul to stop the counter-attack and that is normal but the second kick was unfair and too high also.
"He didn't need to do it.
"Of course he (Nasri) is very upset because he has to stop at this moment for six weeks with a serious injury, but these things happen in football.
"It's important that you can complain because we are not ice men, so of course we have to complain about some decisions but not every decision.
"The referee made a mistake and nothing happened. It was a pity for Samir."
Jones will not be refereeing in the Premier League over the coming weekend. In the latest list of referee appointments issued by the Premier League, Jones is named as the fourth official at Saturday's game between Sunderland and Southampton.
Pellegrini said: "I don't know the reasons why he was stood down."
Nasri had been in fine form this season, enjoying a new lease of life under Pellegrini and helping to sustain City's challenge for four trophies.
Pellegrini is hopeful the France international might be able to return sooner than initially predicted but concedes the 27-year-old will be missed.
The City manager said: "He's a very important player but I hope he can come back in five or six weeks.
"It's important for the rest of the squad but it's the same thing that happened when (Vincent) Kompany, (Sergio) Aguero or (David) Silva were injured.
"We always had another player that replaced him and we will try to do that with Samir, but he was in a very good moment."