Manuel Pellegrini targets four-trophy haul as Manchester City prepare for FA Cup replay
Manuel Pellegrini says an unprecedented quadruple triumph is the target in his first season at Manchester City.
Last Updated: 16/01/14 6:59am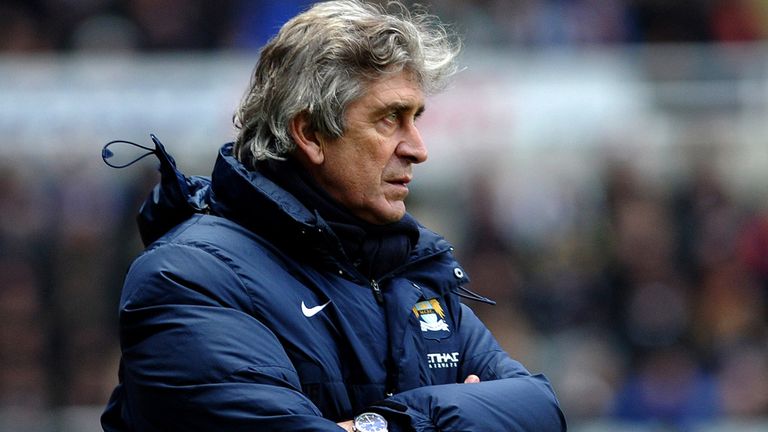 The Chilean's free-scoring side are second in the Premier League table, have a 6-0 first-leg advantage over West Ham in their Capital One Cup semi-final and have reached the last 16 of the UEFA Champions League, where Barcelona await.
The next hurdle is Wednesday's FA Cup third-round replay at home to Blackburn Rovers and Pellegrini insists his players will continue to chase glory on all four fronts.
"It's important to have the mentality at least to try (to win all four)," Pellegrini said.
"During the season with injuries and the amount games we have to play it's very difficult, and that's why no-one's done it before.
"But you must have the mentality to at least try to do it and that's what we're trying to do at this moment.
"We're not thinking about winning the four competitions, we're just thinking about Blackburn in the FA Cup and then to try and win against Cardiff on Saturday."
While the likes of Aston Villa's Paul Lambert have questioned the importance of the FA Cup - though he later claimed his comments were taken out of context - Pellegrini has vowed to uphold the tradition of the competition by fielding a strong side, with Sergio Aguero set to return against Rovers.
"It's a very important cup because it's a very traditional cup, so the most important thing for this team is to have the mentality to try to win no matter what competition you are playing," he added.
"I don't understand the reason why because we're not playing the Premier League that you don't want to win.
"If you make some rotations and the other team is strong they play better and win, then we would be eliminated. So, we will try to do well and try to continue."
Pellegrini is confident the returning Aguero will soon get back into his stride.
Pellegrini said: "You never know but I hope that he will come back the same way as before he was injured.
"He was in a good moment and maybe he needs two or three games to return to that level but Sergio will do it."
City have actually fared well without Aguero, winning seven of those eight games played in his absence and drawing the other - against Blackburn at Ewood Park.
The forward line has continued to fire with Alvaro Negredo taking his tally to 19 to equal Aguero and Edin Dzeko moving on to 13.
Pellegrini said: "Negredo is doing very well and we have Edin Dzeko as well who is a very important striker for us.
"When Sergio was injured Edin started to play often and he scores a lot of goals for us.
"But Sergio will always be an important player for us, not only because of his goals but he gives us a lot of play during the match."