Premier League: Roberto Mancini claims he laid foundations at Manchester City
Roberto Mancini has claimed he laid the foundations for much of Manchester City's success this season.
Last Updated: 23/01/14 7:45am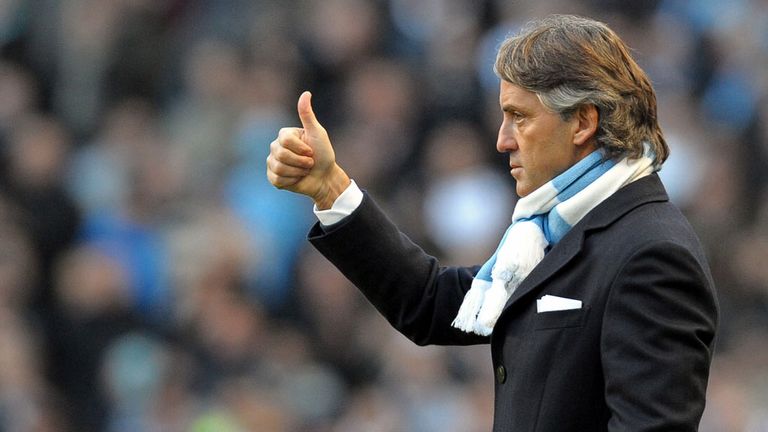 The former Etihad Stadium boss, who is now at the helm of Galatasaray, guided City to Premier League and FA Cup glory before being sacked last May.
Under new boss Manuel Pellegrini, City are in contention for silverware on four fronts and have already racked up an astonishing 106 goals this season.
Mancini, who spent three-and-a-half years in charge, said: "I'm happy with what I did in Manchester.
"I'm happy that now Manchester City is one of the best teams in England because I built this team.
"I am very happy with all these players. I am happy with my job and I love Manchester City supporters. I had a fantastic experience.
"The players that score the goals are players that I bought - (Sergio) Aguero, (Edin) Dzeko, Yaya (Toure), (David) Silva, (Samir) Nasri.
"I think Pellegrini is doing a good job but what Manchester City is doing now we did three years ago. It's the same."
Mancini left City soon after his side, who had already lost their Premier League crown to Manchester United, were stunned by Wigan in the FA Cup final.
In the days that followed there were suggestions that Mancini's deteriorating relationship with some players had been a significant factor in his dismissal.
However, the Italian denies he had lost the trust of the dressing room.
He said: "This is all the stories that someone from inside got out, but this is not true.
"After four or five years, maybe the manager needs to change team.
"I did my job, I built a fantastic team, we played fantastic football and we didn't win last year because Manchester United bought (Robin) Van Persie.
"Van Persie was the difference last year. If not (for him) I think in these three years we would have changed the history in Manchester because we played really good football and now they are continuing to do this.
"When you work, you can have some problem with the players. This is normal because the manager always wants the players to work hard, play well and the players should understand this."