Transfer news: Man City's Yaya Toure admits he would like to play for PSG in future
Yaya Toure admits he would like to play for PSG in the future - and thinks Real Madrid will win the Champions League.
Last Updated: 23/01/14 11:23am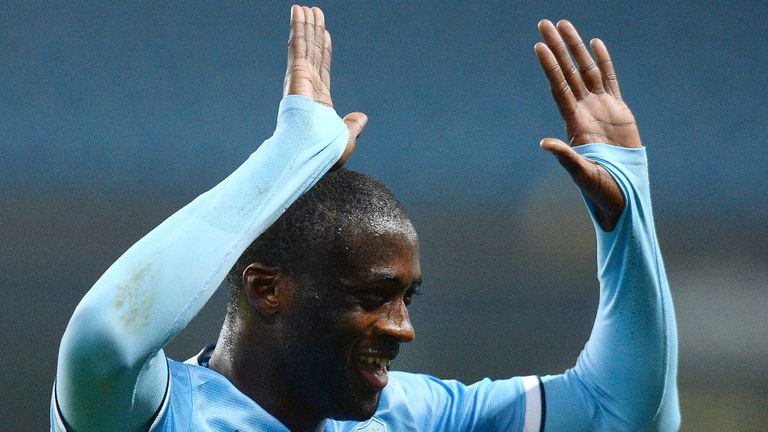 The Manchester City midfielder has been in dazzling form for Manuel Pellegrini's troops this season, scoring 14 goals in 26 appearances.
City are well placed in their hunt for silverware, lying second in the Premier League table and having already booked a Wembley final on March 2, when they will take on Sunderland in the Capital One Cup showpiece.
City are also still in the FA Cup and host Watford in the fourth round this weekend, while their Champions League bid faces the toughest of tests in the last 16, where they must tackle Spanish giants Barcelona.
Toure says he is happy at the Etihad Stadium and feels 'everything is going well' - but the 30-year-old admits a future move to Paris is an option, saying they are a 'great club'.
Laurent Blanc's side lead the way by five points in Ligue 1 and face Schalke in the UEFA Champions League last 16. With Qatar Investment Authority being their majority owner, they are one of the richest clubs in the world.
PSG have the likes of Zlatan Ibrahimovic, Edinson Cavani, Ezequiel Lavezzi, Thiago Silva and Javier Pastore on their playing staff - and Toure admits their squad is 'scary'.
When asked if he would consider signing for the Ligue 1 champions, he told French radio station RMC: "Everything can be possible. Why not?
"In life, you never know. Everything is going well right now at City, but one never knows. When you have great teams like this, where there are already great players, it attracts.
"To be part of an adventure like this, a group like this, it is exceptional.
"Me, working with great players, it is always my goal. It allows you to improve and learn many things.
"In football, you never stop learning. For me, PSG is a great club."
Toure, who signed a new deal with City last April, has respect for PSG - but ultimately expects Carlo Ancelotti's Real Madrid side to be crowned kings of Europe at Estadio da Luz on May 24.
"For me, PSG are scary. I have great respect for them too," he added.
"It's a big team. They are a bit like the Man City of France. They have the financial power which enables them to buy great players.
"Bayern are a good team. PSG, with what they did at Camp Nou last year, showed that they could be challengers.
"I see Real Madrid too. It will be tight. But I would say Real."