World Cup: Manuel Pellegrini backs Man City midfielder Fernandinho to make Brazil squad
Manchester City boss Manuel Pellegrini expects midfielder Fernandinho to win a place in Brazil's World Cup squad.
Last Updated: 30/01/14 11:33am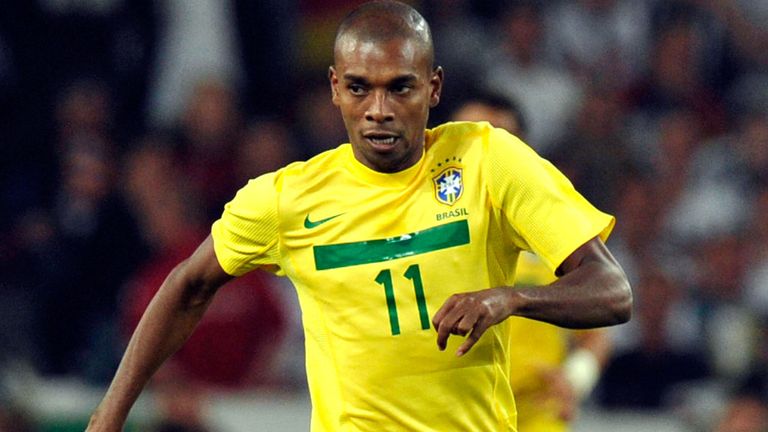 Fernandinho has made a big impression since his £30million move from Shakhtar Donetsk last summer and Pellegrini believes that will have been noticed by his national boss Luiz Felipe Scolari.
Fernandinho, 28, has won just five Brazil caps but, having moved to England, he is now in regular competition with some of his rivals for a place in Liverpool's Lucas, Chelsea's Ramires and Paulinho of Tottenham.
Pellegrini said: "I am really surprised that Fernandinho is not in the Brazilian team so far.
"I am sure in the future he will be because he is a top player."
When asked if that might mean the World Cup, which Brazil hosts this summer, Pellegrini said: "I think he will be.
"I suppose that Scolari sees all the games of Manchester City and Fernandinho is one of the best players this season."
Fernandinho has settled quickly in England and formed an effective midfield partnership with Yaya Toure.
Often he plays the defensive role, allowing Toure to power forward.
Toure's 14 goals this season are a firm indicator of the success of the arrangement but the Brazilian himself has struck three times.
In total City have scored a remarkable 106 goals in just 35 games this term.
More will be expected as they host Sky Bet Championship side Watford in the fourth round of the FA Cup on Saturday, but Pellegrini insists a hatful cannot be guaranteed.
The Chilean said: "For me the most important thing is to play well, second is to win the game and the third is to score.
"It is not easy to score five. We are not expecting to win every game by five goals.
"We are trying to continue playing in a way that allows us to have chances to score.
"In a good day maybe we are going to score (many), but (maybe) not tomorrow."
Toure is only the team's fourth top scorer with Alvaro Negredo having netted 23 times, Sergio Aguero 22 and Edin Dzeko 16.
Pellegrini was not willing to discuss whether there might be a healthy rivalry between the players over who might finish top scorer.
Pellegrini, speaking at a press conference to preview the Watford game, said: "I have no favourites.
"The most important one is the striker who scores the goals and we win the game. That is the most important.
"We have a lot of chances with three or four (players) in a good moment.
"I am absolutely sure that all of them know that they always score when the team plays well.
"If they wanted to score individual goals I am sure they will not score so many goals as they are doing now."
Yet while City continue to earn many plaudits for their attacking brand of football, Pellegrini insists there is no right or wrong way to play the game.
Title rivals Chelsea, for instance, play a more pragmatic style but Pellegrini dismisses the notion that beating the Londoners to the Barclays Premier League crown would be a victory for football.
He said: "I think the best thing, for me, is that Manchester City win the title.
"But not only for style, for a lot of things.
"I repeat, that there is not one true football. Playing another way - a lot of managers do it, a lot of managers win titles in that way, so everyone can do what they want."
Despite City's attacking brilliance, questions have been asked of their defence, most recently after they conceded two to Cardiff last weekend.
But Pellegrini said: "In the league I think we are the fourth best defence but we have scored 20 goals more than the best attackers.
"Of course if you had 10 players defending the whole match it would be difficult for the other team to score against us but I don't think that we don't defend well. I think we defend very well."