Manuel Pellegrini calm on Man City's transfer business after FA Cup fightback against Watford
Manuel Pellegrini insisted after Man City's FA Cup win that one bad half would not force him into the transfer market.
Last Updated: 26/01/14 9:33am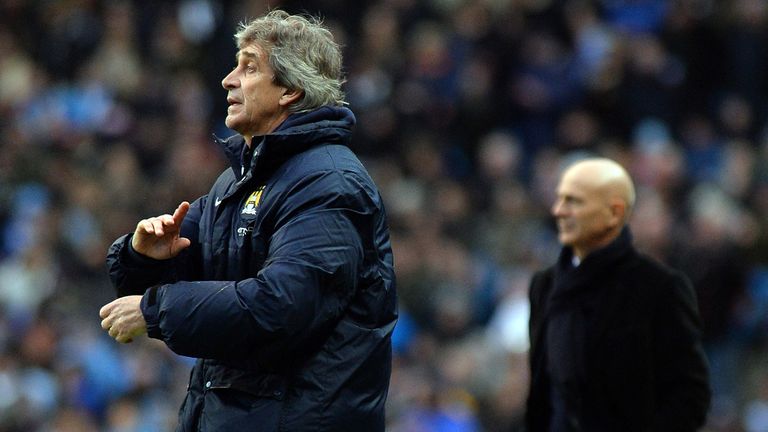 City were in danger of becoming the victims of a major upset in their fourth-round tie at the Etihad Stadium as Fernando Forestieri and Troy Deeney fired the Hornets into a surprise 2-0 lead.
However, a Sergio Aguero hat-trick and Aleksandar Kolarov's long-range strike turned the game in City's favour after the interval, leaving Pellegrini satisfied with the response from his players.
"I was very worried at half-time because I talked with the players a lot before the match and said that in the FA Cup, teams that play in a lower division have a lot of motivation," he said on the club's official website.
"I didn't underestimate Watford, I didn't think it would be easy and I told the team this. The players must not believe they have an easy game but I feel that they had a very good reaction in the second half.
"We changed everything, we played with tempo, with pace. We continued playing in the same way we've played in this whole season at the Etihad.
"This reaction was very important."
Pellegrini, who had not planned to keep Aguero on for the whole 90 minutes, was adamant after the match that it had been a team effort to get back into the game rather than just the Argentina international's brilliance.
He said: "The whole team didn't do the things that we normally do in the first half, the most important thing for me is that Watford didn't score the third goal. If they'd have scored that, the game would have been finished.
"Sergio is a top player, he's very important for us.
"We didn't want him to play 90 minutes, the idea was for him to play 60 or 70 minutes but it didn't turn out like that."
There is less than a week remaining until the transfer window shuts, but Pellegrini stressed that it is not a priority to strengthen his squad.
"We'll see what happens, deadline day is 31 January - it's not our first concern but we'll see what happens in the future," he said.
"I don't have weak feelings about the team based on one half of football. It's normal that the lower division team has a lot of motivation. But the reaction was there and we played a really good second half."