Champions League: Vincent Kompany says referee played his part in Man City defeat
Vincent Kompany, like Manuel Pellegrini, believes that Jonas Eriksson was one of the reasons Man City lost to Barcelona.
Last Updated: 19/02/14 12:16pm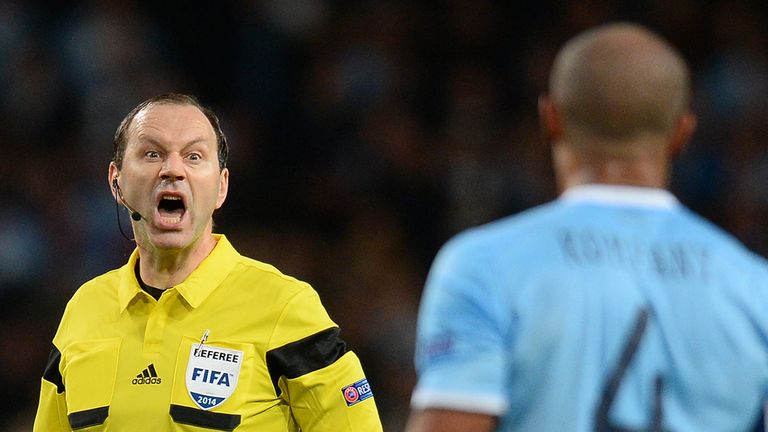 Pellegrini blasted Eriksson after City's 2-0 Champions League last-16 first-leg home defeat to Barca on Tuesday evening, and although Kompany admits that the Catalan giants played well, he feels Eriksson did not allow the game to flow.
A Lionel Messi penalty, which also saw Martin Demichelis sent off, and a late strike from Dani Alves put the Spanish giants firmly in the driving seat.
However, Kompany does not believe City were out-classed and when asked if Barca were the best side they had faced this season, the Belgium defender said: "Not at all.
"Incredibly efficient, though - they have great individual quality.
"By no means did we think they were superior. When it was 11 v 11, maybe we showed a bit more respect.
"There was a lot of soft fouls. In the Premier League, they would have not been given.
"If the tempo was in this game, it would have been to our advantage.
"If the second leg is the same, and we manage to stay away from some fouls, we have a chance."
As for City boss Pellegrini, the Chilean is facing the likelihood of disciplinary action from UEFA after accusing Eriksson of lacking "impartiality".
Pellegrini said Eriksson was "on Barcelona's side from beginning to end" and was trying to make up for a previous mistake against the Catalan side, and also questioned UEFA's decision to appoint an official from Sweden for the tie.
UEFA is likely to take a dim view of such comments - in 2011, it banned Jose Mourinho for five matches, reduced on appeal to three, for a similar rant when he was at Real Madrid.
Pellegrini claimed the 54th-minute foul by Demichelis on Messi was outside the box and that Eriksson - who has been selected by FIFA as one of the referees for this summer's World Cup in Brazil - should have given City a free-kick earlier in the move for a challenge on Jesus Navas by Sergio Busquets.
He said: "From the beginning, I felt the referee was not impartial so he decided the game with a foul that he didn't whistle against and a penalty with Demichelis that was not a penalty, it was outside the box.
"He did not have any control of the game. He was on the side of Barcelona from the beginning until the end.
"I think it was not a good idea to put a referee from Sweden in charge of such an important match, especially a referee who has made an important mistake against Barcelona in a previous match."
Pellegrini appeared to be referring to the 2012 Champions League quarter-final, when Eriksson was criticised by then-Barcelona coach Pep Guardiola for failing to award his side two penalties.
"This referee whistled the Barcelona-Milan and he made an important error against Barcelona. Today he rearranged it," said the City boss.
City travel to the Nou Camp to face Barca in the second leg on Wednesday, March 12.