Champions League: Samir Nasri claims Manchester City can still beat Barcelona
Samir Nasri insists Manchester City can beat Barcelona at the Camp Nou and keep alive their Champions League hopes.
Last Updated: 20/02/14 10:14am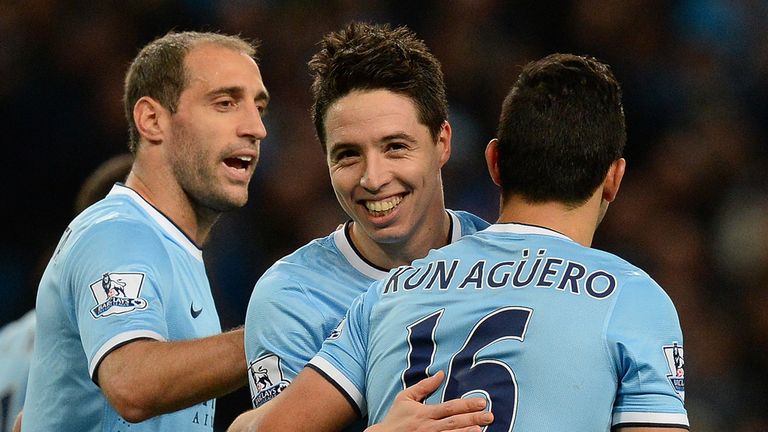 City face an uphill battle to reach the quarter-finals after going down 2-0 to Barcelona at the Etihad on Tuesday night.
However, Nasri believes City can take heart that they have already won this season at current holders Bayern Munich, who he rates as a better team than Barcelona.
The Frenchman also feels Barcelona are not unbeatable at home, after Valencia recently went to the Camp Nou and picked up all three points in La Liga.
"It is not over," vowed Nasri. "Before the game, we said it is a game of 180 minutes, and we can do what Valencia did and beat them at home. We will fight until the end.
"We will have to gamble, but why not? We went to Munich and beat them, so we can do the same.
"It does not change anything in our belief and our quality. We believe in ourselves.
"We believe in what we can do. At the start of the season, we won at Munich. We won at [Manchester] United, Spurs, and by big scores.
"Everything is possible. We can do it. When you play like this, you have to believe. We have the quality.
"I don't think they are the best team we've played. Bayern are the best team we played here. Against Bayern, for 60 minutes we did not touch the ball.
"They are the best team, Barcelona are not. If it was not for the penalty, it was 0-0. Bayern was not the same.
"We did not touch the ball, they scored goals without a mistake from anyone. They showed us how great they were. I am convinced that Bayern are the best team we have played against."
Nasri believes Barcelona's attacking style of play will ensure City create chances in the second leg and he admits the return of Sergio Aguero could hold the key to City's chances of progressing.
"Yeah, we can do it," added Nasri. "It will be an open game, they will come like Barcelona, they do not stay at the back and defend.
"They will come and play, so we will have plenty of space.
"Sergio Aguero will also be back, we will be fitter, so why not because he makes such a big difference."