Premier League: Stoke frustrate Manchester City midfielder Samir Nasri
Manchester City midfielder Samir Nasri admitted it was frustrating trying to break down a resolute Stoke side.
Last Updated: 22/02/14 9:01pm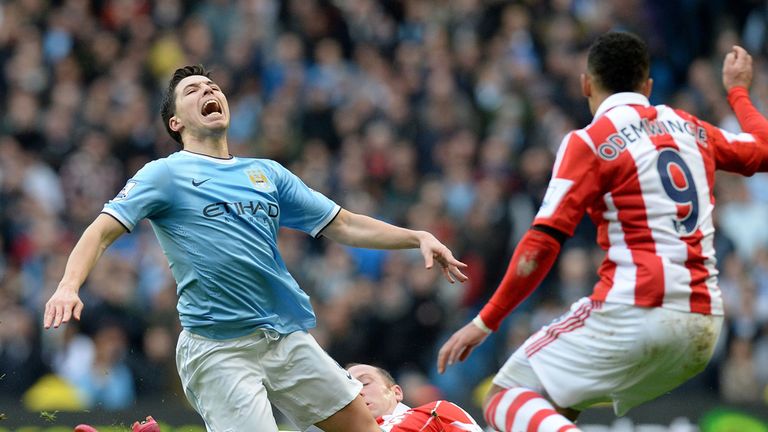 Yaya Toure scored the only goal of the game at the Etihad Stadium 20 minutes from time to keep them third in the Premier League and the France international was glad to get the game out of the way.
"It was frustrating playing against a side with 10 in defence, especially when three days before you play against Barcelona," he said.
"We were not really fresh in the first half but we played better the last 10 minutes.
"At half-time the manager told us to be behind the midfield and play as simply as possible to have opportunities to shoot and that's what happened.
"But most important was the win."
City do not now play again in the Premier League until 15 March, with their next fixture coming against Sunderland in the Capital One Cup final at Wembley on Sunday 2 March.
Manuel Pellegrini's side also face defending champions Wigan in a repeat of last year's FA Cup final and the return Champions League match with Barcelona before they play Hull in the league.
Nasri feels it may be tricky to put their title challenge to one side and revealed he is hoping for better luck at Wembley than he has previously enjoyed in club football.
"It's difficult not to play a league game for three weeks but we have other targets and we are going to try and win every game," he added.
"We have some players coming back from injury and they are going to be fresh again.
"I don't have any good memories with my clubs, because I lost a final there with Arsenal and with Manchester City.
"But I won there with my national team against England and I am hoping it's going to be the same kind of game."
The defeat with Arsenal came against Birmingham in the 2011 Carling Cup final and led to a subsequent slump in league form, something Nasri is keen to avoid this time round.
"I have the experience of winning the Carling Cup with Arsenal and after that we only won one game in the league," he said.
"So a win would be really important for us and for the confidence."