Man City assistant Brian Kidd admits Manuel Pellegrini took Capital One Cup seriously
Brian Kidd believes Manchester City's Capital One Cup success was due to Manuel Pellegrini's hunger for silverware.
Last Updated: 03/03/14 1:48pm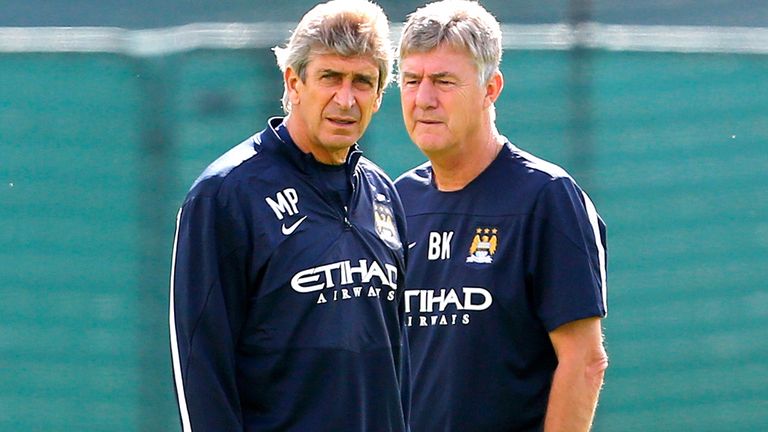 The Chilean secured his first trophy as City manager after goals from Yaya Toure, Samir Nasri and Jesus Navas sealed a 3-1 fightback win against Sunderland at Wembley on Sunday.
City are also pursuing the Premier League title and FA Cup glory, although their UEFA Champions League hopes were hit hard by a 2-0 first-leg defeat at home to Barcelona.
But Kidd insists Pellegrini was always determined to land the Capital One Cup.
This respectful approach to the competition paid off as City produced an impressive goal record on their way to the weekend's Wembley triumph.
"I'm so pleased for the boss. It is his first trophy and obviously all the staff and the players were superb," Kidd told Sky Sports News.
"It's the first trophy of the season. If you can win the league cup, you're in Europe as well at the beginning of March, which is very important.
"I think the boss, the way he's treated the competition - I think it was 23 goals we got, two against - so he's taken it very seriously and we've ended up winning the trophy."
City face an exciting finale of the season with plenty of crucial fixtures coming in the next few weeks.
Kidd accepts that City cannot always win in thrilling fashion, with tiredness taking its toll, and expects some hard-fought results.
He said: "March onwards until the end of the season, it's tiring, it's demanding, and really it's not about performances.
"It's about digging results out now at this stage of the season."