The Nou Camp verdict
Manchester City were beaten but were not disgraced in their European elimination at the hands of Barcelona. Peter Fraser looks at some of the talking points from City's Champions League exit
By Peter Fraser - Follow me on Twitter @SkySportsPeteF
Last Updated: 12/03/14 11:18pm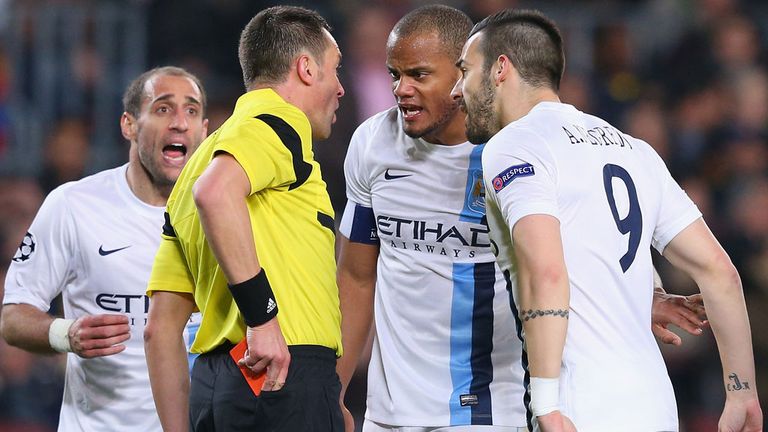 A 2-1 defeat on the night sent Manchester City out of the UEFA Champions League in a 4-1 aggregate loss to Barcelona.
Lionel Messi and Dani Alves scored for the Spanish giants as all City had to cheer was a consolation from the fantastic Vincent Kompany.
Pablo Zabaleta had been sent off for dissent for the visitors at the Nou Camp to make it an even more difficult game but what can City learn from their latest European disappointment?
Learning Curve
To be successful in Europe, any team requires an element of good luck. City discovered this the hard way with a strange night from referee Stephane Lannoy and his assistants, who dismissed Zabaleta after the full-back contested what looked like a good claim for a penalty on Edin Dzeko in the second half. But you also need experience.
City are still a naive team in Europe after what has only been three seasons in the Champions League. For all their star players, they lack the Champions League knowhow of Barcelona. This has been underlined in this campaign in the failure to win their group, losing the first leg against Barcelona - when also down to 10 men - or in not taking their chances, of which they had 11 shots at the Nou Camp.
In contrast, Barcelona, for all the rumblings about a great side edging towards the end of their shelf-life and a disconcerted home support, remained disciplined. Gerardo Martino's side did not commit a foul until the 25th minute on Wednesday night. City had committed 11 in that time.
This City team will consequently have to wait for next season for another crack at Europe and they could be criticised for having not produced instantaneous success given the levels of investment in their club. The positive, though, is that they will inevitably be learning what is required in Europe through this process.
Aguero Alternative
Sergio Aguero is one of the best strikers in the world and would be the star goalscorer in most sides. The Argentine is a mixture of explosive and intelligent running with a deadly instinct for goalscoring. But the problem for City is that they do not have an alternative in Aguero's mould when he is injured or unavailable.
Dzeko and Alvaro Negredo are good players. They are strong in the air - as the former demonstrated shortly after coming on at half-time in place of Aguero - and with an eye for goal when in form. However, they are too similar.
Dzeko and Negredo do not offer the same threat as Aguero and this was demonstrated over both legs against Barcelona, when the latter played only 45 minutes. Aguero touched the ball just six times in his first-half second-leg appearance, with not one of those touches coming inside the penalty area, before coming off with a hamstring injury at the break.
Dzeko caused a few problems briefly after he came on, as Barcelona's home supporters grew a little edgy and City increased in intensity as the clock ticked down, but the Bosnian was more battering ram than ingenious forward. City need another striker with guile.
Kompany Colleague
If Kompany had not been at his supreme best at the Nou Camp, City would almost certainly have conceded more goals. In the first half, he had gained possession on seven occasions - which was more than any other player on the pitch. It was a captain's performance as he read the game superbly, timed interceptions and put his body on the line.
However, Kompany's centre-back partner, Joleon Lescott, had the difficult night many feared he would endure. Lescott started badly and shortly after should also have been punished inside the penalty area for a mistimed challenge on Messi. There is obviously little shame in being outplayed by Messi but at times Lescott looked completely out of his league.
It was then Lescott who got his feet in a tangle to lead to Messi's goal. That served to underline the already long understood fact that City, who have been missing Matija Nastasic through injury and the unconvincing Martin Demichelis through suspension, need an undisputed centre-back partner for Kompany.
| | | | | | |
| --- | --- | --- | --- | --- | --- |
| Versus Barcelona at Nou Camp | Tackles | Clearances | Interceptions | Possession Gained | Blocks |
| Vincent Kompany | 5 | 3 | 5 | 10 | 2 |
The Belgian finished the game against Barcelona having scored City's goal but, more impressively, having also made 58 passes, which was only less than Yaya Toure (60) among the visiting players. When the game finished, Kompany had gained possession 10 times, made five interceptions, three clearances and five tackles - the latter of which was more than any other man on the pitch.
Magical Messi
It has been regularly questioned whether Messi is fit amid what is proving to be a tough personal season but the brilliant Argentine was still superb on the night against City.
Amid a beautiful array of touches, magnetic control, vision and dribbling, one of the greatest players in history tormented City. At half-time, he had created three chances and excellently won all five of the duels in which he was involved. This form continued into the second half when he scored his goal and created two more chances.
If this is not a fully-fit Messi, watch out the rest of Europe.