Manchester City assistant manager Ruben Cousillas proud of display against Barcelona
Manchester City assistant manager Ruben Cousillas was proud of the side's performance despite losing to Barcelona.
Last Updated: 13/03/14 11:08pm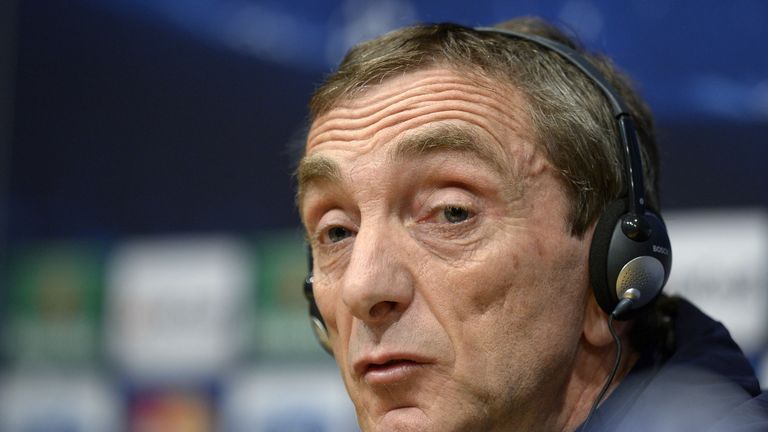 City saw their Champions League hopes ended after losing 2-1 at the Nou Camp as Barcelona progressed 4-1 on aggregate over the two legs.
Cousillas, who took charge of the side in the absence of Manuel Pellegrini as he served a touchline ban, felt City showed character as they pushed Barcelona all the way.
"We played a great game against a very good opponent," said Cousillas.
"Today City played very well and we had some chances to score the first goal when the game was 0-0 but they also had some good chances.
"We showed character in the team - they went back to the level we were used to before and against a very tough opponent.
"Also, it's always very difficult to play against a very important team like Barca with 10 men, that's why we're frustrated but happy with the team performance.
Cousillas revealed he spoke to Manuel Pellegrini after the game and that the City boss was also happy with the performance if not the result.
"After the game, Manuel came down to the dressing room and we talked about
the game," added Cousillas.
"He [Pellegrini] was satisfied with the team performance but we're not happy with the result and with losing the tie."
Cousillas admitted it was too early to know the full extent of Sergio Aguero's latest injury after he was forced off at half-time with a muscle injury, but claimed he was taken off more as a precaution more than anything else.
"It's too early to say how long Sergio will be sidelined - apparently it's nothing too important," added Cousillas.
"He felt some pain in his muscle and he went off as a precaution more than anything.
"Tomorrow he will have some medical tests and the doctor will let us know how important the injury is."
Cousillas also defended the decision to start with only striker in Aguero up front as City struggled to create any real goalscoring opportunities in the first half.
"Aguero would have played the whole game if he had not been injured and
would have played the second half with another striker," continued Cousillas.
"No-one can say that playing with another striker from the start; we would have got more chances. We couldn't afford to concede the first goal in the first half.
"Not always when you play with more central strikers do you have more chances - we usually play with two but today we thought that against Barca who have very good players in the midfield, we needed to balance this a little bit.
"That's why we tried to play with one more midfielder and I think the result was good in our performance."