Premier League: Sergio Aguero and James Milner hope Manchester City can win title
Sergio Aguero and James Milner are hoping Man City's 2012 Premier League win will swing this season's race their way.
Last Updated: 05/04/14 11:55am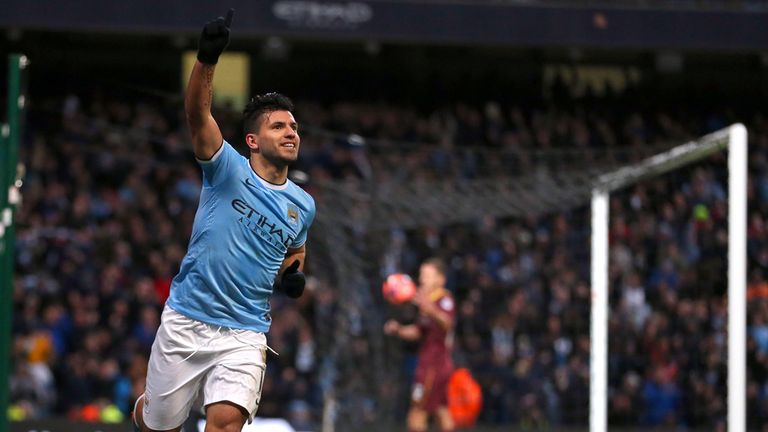 City won the league in dramatic fashion on the final day of the 2011/2012 season when Aguero's last-gasp goal against Queens Park Rangers secured a 3-2 victory to pip local rivals Manchester United on goal difference.
This term's title fight could also go down to the last day, with City currently trailing leaders Liverpool by four points, but holding two games in hand.
Manuel Pellegrini's side head to Anfield a week on Sunday and Aguero, who has recently been sidelined by a hamstring injury, is keen for City's past experience to make a difference.
"It does help but it's not just that game," Aguero is quoted in The Sun regarding the way City won the title in 2012.
"The more you play, the more experienced you become. You must learn from your mistakes and not repeat them.
"Obviously no one expects to be level on points going into the last game of the season again, but we know we have the mentality to repeat 2012."
The Argentina striker added: "Chelsea, both at home and away, were tough matches. Liverpool were a good side, too, and the game at Anfield will be huge.
"Any game in the Premier League is difficult, especially away from home. It's all about doing things in the right way."
City midfielder Milner echoed Aguero's sentiments and outlined the importance of the game at Liverpool, who are chasing a first title since 1990.
Milner said: "It looks like Liverpool are our main rivals. Chelsea are still in there as well. Hopefully we can rely on our experience which we've got.
"We've been there, we've won it before. Liverpool haven't in recent times, so hopefully that could help us.
"But they are playing so well and we just have to concentrate on our game.
"The Liverpool game is vital. It's never an easy place to go, especially this season. They are on fire, playing well and deserve to be up there.
"We just need to try and finish with maximum points from now until the end and that will be enough."