Manuel Pellegrini says Manchester City are back to their best after Southampton win
Manuel Pellegrini has called on Manchester City to keep performing like they did in the second half against Southampton.
Last Updated: 06/04/14 8:34am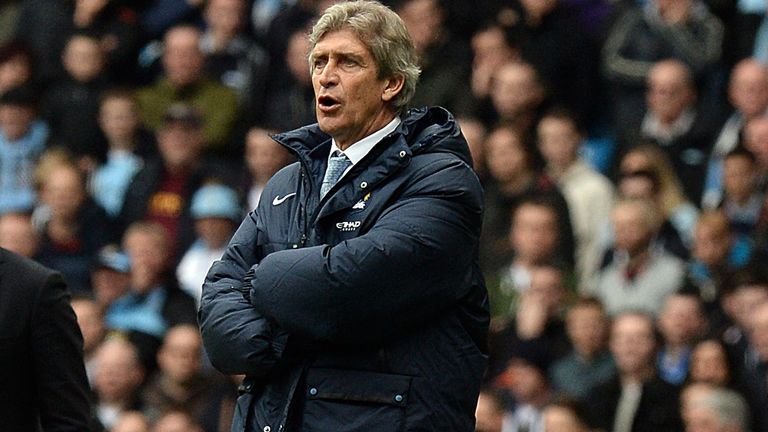 Yaya Toure's early penalty was cancelled out by a Rickie Lambert spot-kick as Southampton competed well in the first half at the Etihad Stadium, before quick-fire goals from Samir Nasri and Edin Dzeko gave City a 3-1 advantage at the interval.
City were much better after the break and Stevan Jovetic's late strike kept them in control of their own destiny ahead of next weekend's crucial showdown against fellow challengers Liverpool, although Pellegrini insists Chelsea and Arsenal are still in the race.
"The four teams have the same pressure until the end of the season - they all want to win the title," Pellegrini said on the club's official website. "Everyone knows that they must win - whether they know our result or not.
"We just depend on ourselves until the end of the season - it's important to continue playing the way we did in the second half because I thought it was a great performance.
"We are enjoying a very good second round of fixtures where the results are much better than the first half.
"We've had four wins and one draw in our last five games - maybe we had low performances in the month of February but I think that now the team has come back to its best performances."
A key moment in the game was City's second goal, when the officials did not spot that David Silva was offside before he played in Nasri, but Pellegrini maintains that his side deserved their win.
"I don't think that the second goal changed the game because we scored a few minutes later," he said.
"I don't think the difference was just the second goal, we won 4-1.
"If we had only won the game 1-0 maybe you can say it was an important mistake by the referee."