Premier League: Pablo Zabaleta insists fatigue will not affect Manchester City
Pablo Zabaleta has urged Manchester City to shrug off their fatigue as they attempt to overhaul their title rivals.
Last Updated: 06/04/14 2:12pm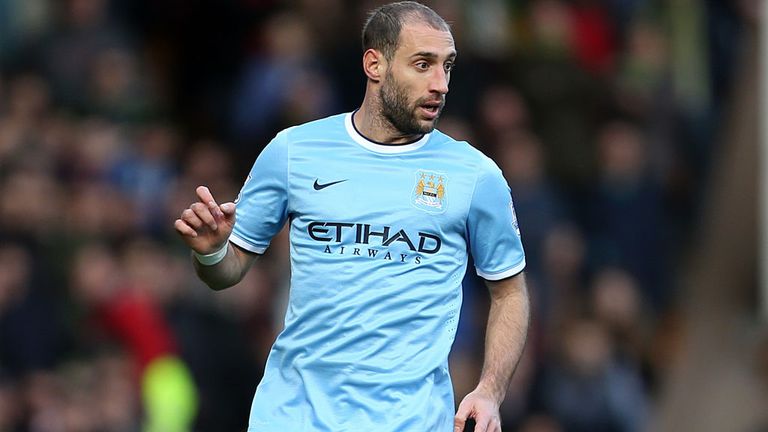 A tense title race is entering the closing stages and third-placed City kept the pressure on Chelsea and Liverpool with an impressive 4-1 win over Southampton on Saturday.
Manuel Pellegrini's men have been forced to cope with a hectic fixture schedule, leading them to Capital One Cup success, together with progress to the latter stages of the Champions League and FA Cup.
Yaya Toure, Edin Dzeko, Samir Nasri and Stevan Jovetic all scored as City overcame a spirited Saints side and Zabaleta admits his team cannot afford any leg weary displays in the closing games.
"The most important thing was to win - we must keep winning all games. It is going to be very tough until the end of the season," said the defender.
"At the end of the season, sometimes, teams can look a little tired but I think we must keep winning games.
"Every single game now is going to be like a final, (but) we have belief.
"I think we have a great team to make success this season but it is not going to be very easy.
"We need to keep working hard and keep playing like (we did) in the second half. I think playing in that way we will have more chances."
Rickie Lambert equalised from the penalty spot for Southampton, who caused City plenty of problems in the first-half at the Etihad.
Zabaleta was impressed with Mauricio Pochettino's men, suggesting that Saints can threaten the top teams next season.
Zabaleta said: "I think they are probably one of the best teams in the league, for sure.
"I think we must give them a lot of credit because they are having a great season, they played really well.
"We didn't play our best in the first half but then we came back stronger.
"We had the control of the ball in the second half. We scored four goals and that is great for us."