Pablo Zabaleta welcomes Sergio Aguero return for Manchester City
Pablo Zabaleta believes the return of Sergio Aguero will be a key factor in the final weeks of the season.
Last Updated: 14/04/14 10:30am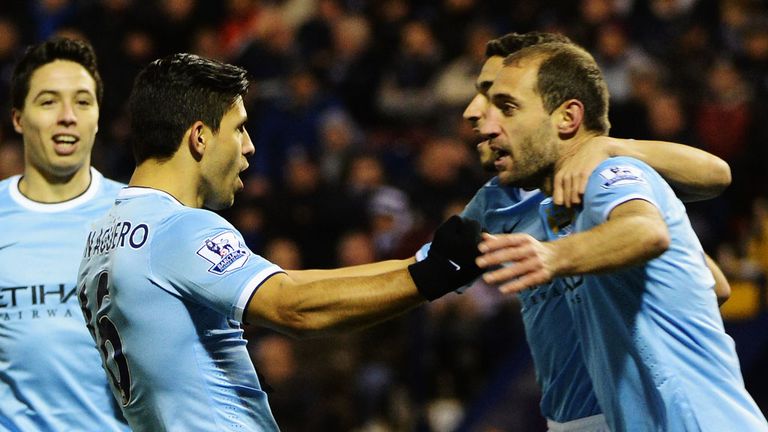 Striker Aguero, City's top scorer this term with 26 goals, looks set to feature in Sunday's crucial game against Liverpool at Anfield after missing five matches due to a hamstring problem.
Two years ago Aguero and Zabaleta's fellow Argentine Carlos Tevez returned towards the end of the campaign after a lengthy absence - which had stemmed from the infamous incident in Munich earlier that season - to help City overhaul Manchester United and become Premier League champions for the first time.
Zabaleta said: "It's a good time for Sergio to come back. I can see why people say it's similar to Tevez returning - although it's a different situation.
"Like with Carlos, it's great for any team to have the best players back again - particularly at this part of the season. That's the good news for us.
"He is an important player and he is going to score goals. He is fast, he is quick. Sometimes we need a player like Sergio."
City have fared well without Aguero, winning all their matches apart from a 1-1 draw at Arsenal, to sit four points behind leaders Liverpool with two games in hand, but Zabaleta feels the Blues have still missed the 25-year-old.
"Have we missed him? Yes of course," Zabaleta said. "You always want the best players to be in the team and fit for any game at this time of the season.
"But we know we also have important players like (Edin) Dzeko, Yaya (Toure) is having a great season, (David) Silva, (Samir) Nasri - we have a lot of talent in front.
"That is why, even without Sergio, we keep scoring goals. We can't just rely on him."
Liverpool have scored 90 league goals compared to City's 84, and Zabaleta has stressed the need for the visitors to remain solid in defence on Sunday.
He said: "Liverpool score a lot of goals - we know they have great players in front with (Luis) Suarez, (Raheem) Sterling, (Daniel) Sturridge. They are in a great, great moment.
"I think we must work really hard not to concede any goal. But we have defended well for a few weeks - not conceding many goals.
"We know Anfield is always a very tough place to go and get points. The atmosphere there is fantastic. It will be a great game.
"Every single game now is going to be like a final. We have belief. I think we have a great team to make success this season but it is not going to be very easy."
Watch Liverpool v Manchester City live on Super Sunday on Sky Sports 1.