Premier League: Manchester City's Joe Hart claims to relish playing under pressure
Manchester City goalkeeper Joe Hart claims playing under pressure is 'all part of the fun' as he chases another title.
Last Updated: 14/04/14 10:30am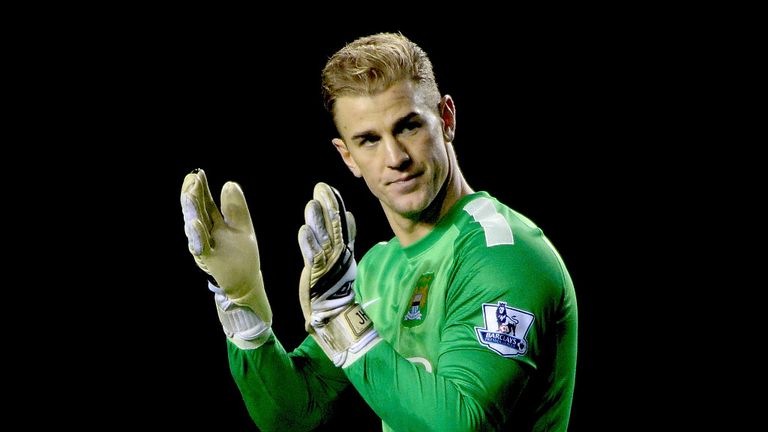 The 2013/14 campaign has been one of mixed emotions for Hart, with early-season errors leading to him being dropped - only to then be recalled and rediscover his very best form.
The 26-year-old accepts that life between the sticks will bring inevitable highs and lows, but insists that life under the brightest of spotlights is what drives him to be the best he can possibly be.
Those efforts could see him get his hands on another top-flight crown this season, and Hart admits he is relishing the challenge of providing the last line of defence in a quest which will take in a trip to Anfield on Sunday to face current table-toppers Liverpool.
The England international told The Times on life as a high-profile number one: "I don't know what it is to be anything else. That is what I am. A goalkeeper.
"That stress has managed my life for as long as I can remember. There are things you can do - talk to people, work with people - but it is normal. I live as a goalkeeper.
"I know there is a lot riding on every game with us. I live for playing at Anfield. It is an amazing place. I watched the (Tottenham Hotspur) game and the belief has taken off.
"But that is what I live for. I am lucky to play in those situations. I like that pressure. It is my job. It is my life. It is all part of the fun."
While Hart is looking to enjoy himself as City attempt to piece together a perfect finish to the season which will carry them to the biggest prize in English football - as games in hand mean their fate is squarely in their own hands - he insists that no-one at the Etihad Stadium is taking anything for granted.
He added on their seven remaining fixtures: "I look at the games. There are players who don't, but it would be boring if we were all the same. If we were, you wouldn't get the creativity, the spark, the genius that there is in football.
"Liverpool are going for the title, so that will be tough. Then it's Sunderland and West Bromwich Albion, who are fighting for their lives.
"Then it's Crystal Palace, who are desperate to stay up. Then Everton, going for the top four. Then Aston Villa, who could still be in the relegation battle, and then West Ham, which is always hard.
"Every single one is a different challenge. There are none that are easier than the rest."