Manchester City wait to learn if they have breached UEFA's financial fair play rules
Manchester City may find out this week if they have been found guilty of breaching UEFA's financial fair play rules.
By Bryan Swanson, Chief News Reporter
Last Updated: 15/04/14 3:03pm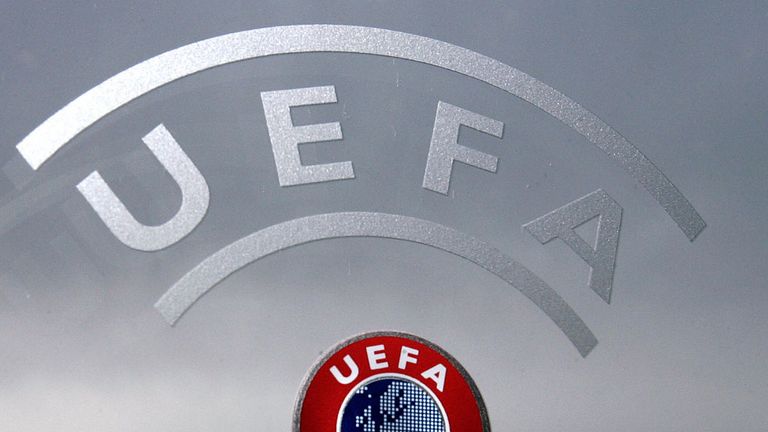 UEFA is continuing to investigate Manchester City, Paris Saint-Germain and an unspecified number of other European clubs over potential breaches, Sky Sports News has learnt.
It is believed that fewer than 20 clubs are now under investigation, down from 76 clubs in February.
UEFA's independent club financial control body (CFCB) is meeting for two days in Nyon, Switzerland and discussing further action for clubs that fail to meet its financial requirements.
There is no suggestion that Manchester City have yet been found guilty of breaching rules.
It is understood Manchester City expect to break even at the end of this season and do not believe they are in breach of rules after deductions for infrastructure, youth and community spending.
City manager Manuel Pellegrini, asked if he feared sanctions from UEFA, said: "No. First of all it is important to know what UEFA will have to say and then we can have an opinion.
"It is important for the club but I am not the person in charge of those kinds of things."
European football's governing body will not disclose the identity of the clubs involved and whether any are English.
Arsenal, Chelsea and Manchester United have told Sky Sports News they are not under investigation.
The CFCB is made up of two chambers, one investigative and the other adjudicatory.
Former Celtic chairman Brian Quinn is one of eight officials on UEFA's Investigatory Chamber. Charles Flint QC, an English barrister, is one of five officials on UEFA's Adjudicatory Chamber
UEFA has not yet disclosed the punishment for clubs that fail its rules but it can impose a number of sanctions including a warning, fine, disqualifying clubs from its competitions, including the Champions League and Europa League, and withdrawing a title or award.
Under rules since 2011, European clubs can spend up to £4m (€5m) more than they earn per year but can exceed this level to a certain limit until the end of the 2017/18 season.
Clubs can spend around £37m (€45m) more than they earn until the end of next season - if it is entirely covered by a direct contribution from the club owner or a related party.
Between 2015 and 2018, clubs will only be allowed to spend around £25m (€30m) more than they earn under the same limits.
UEFA says financial fair play is "about improving the overall financial health of European club football".