Manchester City boss Manuel Pellegrini retains Premier League title belief
Man City boss Manuel Pellegrini says his side have no intention of giving up their pursuit of the Premier League title.
Last Updated: 16/04/14 10:58pm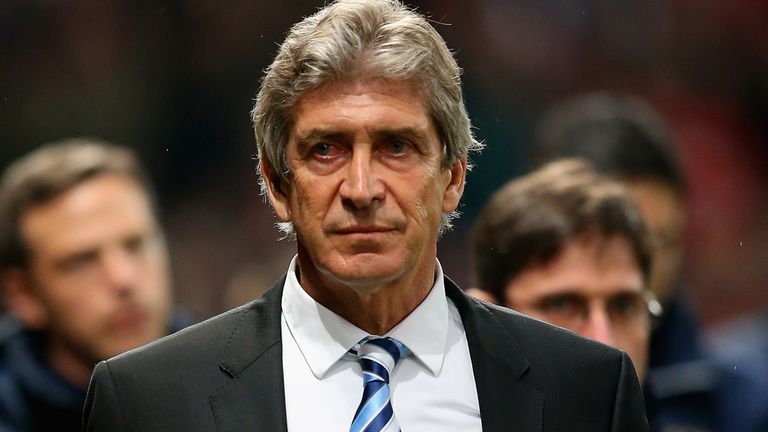 City lost 3-2 to leaders Liverpool in a pulsating encounter on Sunday, but Pellegrini insisted his team's self-belief was still intact ahead of Wednesday's game against bottom side Sunderland.
"I think the team knows perfectly what they have to do," said Pellegrini. "We lost that game but we have still to play six games more and we will fight to the end to win the title."
City, who have two games in hand, are in third place and trail fellow title hopefuls Liverpool by seven points and Chelsea by five.
"If we don't do it, it is because Liverpool will win their four games, but I don't think some things change after the game on Sunday," he said.
"Of course, the fans believe that we can do it. And the two postponed games: if we win both we are just one point behind Liverpool.
"If you don't believe when you're just one point behind the leader, nobody can believe anything. We have had a very good season so far and we hope we finish the last six games in the same way.
"The important thing is that we win our games. We can do nothing about the other teams but we can do a lot of things here.
"That is why I am sure the players know exactly what they have to do and we will try to start by winning one of the two games postponed so both teams, Chelsea and Liverpool, must feel we are only three or four points behind them with one game also to play at the end of the season."
The defeat against Liverpool came courtesy of a Philippe Coutinho winner for the Reds after City had fought back from 2-0 down.
"We are recovering. It is not easy to recover from that game but we are recovering," said Pellegrini, who will be without key midfielder and top goalscorer Yaya Toure who is out with a groin injury.
"The players are very conscious of what we are fighting for and the only duty we must do is to win our games."
Sunderland, who lost 3-1 to City in the Capital One Cup final last month, are seven points from safety at the foot of the table.
"I think it is very dangerous, the position that they are in the table - more dangerous than a match that was one month ago," added Pellegrini.
"Sunderland are in a very bad position and they know they have to win so they will be very dangerous."