Premier League: Man City's Manuel Pellegrini was happy to chase success on four fronts
Manuel Pellegrini refuses to blame Man City's run in four competitions on their recent slip-ups in the Premier League.
Last Updated: 26/04/14 3:20pm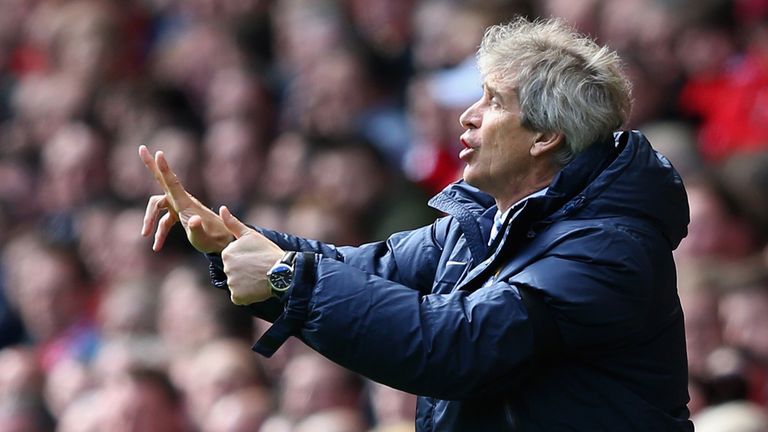 The once-leaders and favourites for the league title are no longer the front-runners in the battle to lift the trophy.
This mantle has now switched to Liverpool who are the new favourites to become English champions for the first time in 24 years.
The Reds beat City at Anfield earlier this month, with Pellegrini's boys also dropping two points at home to Sunderland a few days later.
City have already won the Capital One Cup, reached the quarter-finals of the FA Cup and played eight games in the Champions League.
Liverpool, meanwhile, did not qualify for Europe, and played a total of just five matches in the domestic cup competitions.
But Pellegrini remains happy about City's approach this campaign, saying: "I think it was good to be in the four competitions for so long.
"We can't now complain about being in them. I said when I started the season that the four competitions were important.
"We had to play in every game to try to win. We were the team which continued longest in all of them.
"We won one and now we finish the Premier League by playing in these last games and we'll see what happens."
Meanwhile, Pellegrini admits he never had any concerns that the club would be excluded from the Champions League for breaching UEFA's financial fair play rules.
UEFA president Michel Platini has said he does not think any of the 20 clubs who are being investigated for breaches will be banned from European competition next season.
City have been working closely with UEFA to try to ensure they comply with spending rules, which limit losses to 45 million euros over the last two years.
He added: "I felt here inside the club nobody feared we could be suspended for next year."
City play their 53rd match of the season on Sunday when they meet Crystal Palace live on Sky Sports 1.