Manuel Pellegrini insists he will not sacrafice his principles at Manchester City
Manuel Pellegrini insists he will not change his style of play even if Man City miss out on the Premier League title.
Last Updated: 27/04/14 2:19pm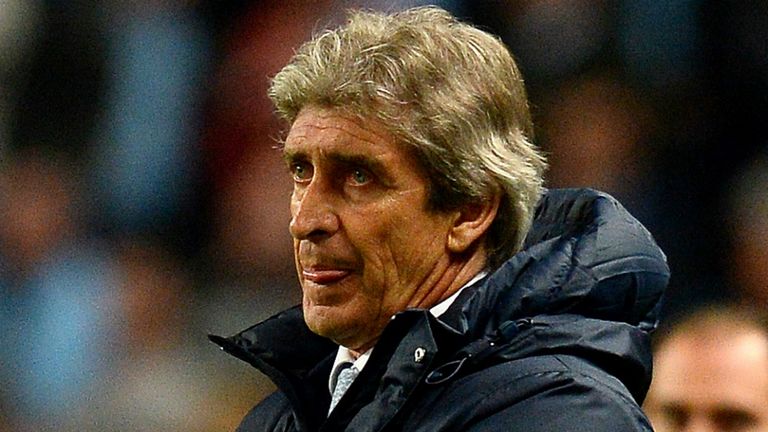 Pellegrini's position is expected to come under scrutiny if City only have the Capital One Cup to show for their efforts this season after a major investment in the playing squad last summer.
However, Pellegrini is adamant he will not alter the way his side plays next season should they fail to win the title as he does not want to sacrafice his principles for success.
"That's why I'm here," said Pellegrini. "If not maybe another manager comes here who wants to kick the ball high, trying to score just one goal and the game is over, and every week complaining about the referee.
"You can gain a little advantage with some unfair play, but I don't think it's the way to do it.
"I want to be the best team of the year. To play attractive football, to be a team with character and personality and to go as far as possible in all the competitions."
Pellegrini also claimed he will not be looking for excuses should City lose out to Liverpool for the title.
"It would have been very easy for me to talk about the referee against Liverpool but I didn't," added Pellegrini.
"There are different ways to win and different ways to lose. The sportsman must understand that the game is over.
"If I think the other players played well and we tried our best but they won, then I congratulate them. I shook hands with three or four players because they were near me. But if Liverpool win the title I will congratulate their players.
"Maybe because of the other competitions we are going to play 12 or 25 games more than them, which is a lot. But that's not the reason why Liverpool could win the title.
"They would win it because they deserved it. Not because we played more games. I am not a manager who tries to find an excuse or link one thing to another."