World Cup: Manchester City striker Alvaro Negredo hopes to be in Spain's squad
Alvaro Negredo is optimistic his recent lack of goals will not see him miss out on a place in Spain's World Cup squad.
Last Updated: 30/04/14 2:24pm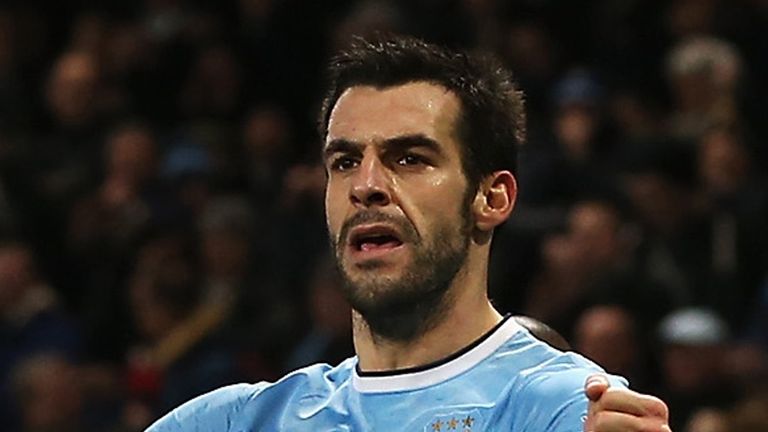 Negredo has scored 23 goals in 47 appearances for City since joining from Sevilla last summer, but has not found the net since January.
He has also started only one Premier League game in the past month and that has led to concerns about Negredo's spot in the Spain squad.
However, the 28-year-old does not believe that Spain coach Vicente del Bosque's confidence in him will have dipped during his current barren run in front of goal.
"It's my dream to be involved in the World Cup, it would be great and is something I am fighting for," Negredo told the Manchester Evening News.
"Not playing regularly here means the national manager has not seen much of me, but I won't give up. Quite the contrary, I am full of optimism.
"I believe he will still have confidence in me. I will carry on working hard in training and score as many goals as possible.
"It's about carrying on with the same dynamic that served me so well earlier in the season."
Negredo had been struggling with a shoulder injury earlier this year, but he has insisted he is now fit and determined to play a role in City's bid to overhaul Liverpool in the Premier League title race.
He added: "I was playing games when I wasn't fully fit but things have turned around now and I am fit again.
"I am not featuring as regularly as before. I turned it around earlier in the season so I have got to have the same mentality to turn things around once again.
"I did that by working hard on the training field and scoring goals when I got my chance. Hopefully, that's what will happen again.
"It's just a case of working as hard as I can to get as many minutes on the pitch as possible to repay their faith in me."