Financial Fair Play: UEFA to discuss penalties for clubs guilty of breaching rules
UEFA are meeting to discuss penalties for less than 20 European clubs deemed to have breached financial fair play rules.
By Lia Hervey, Sky Sports News
Last Updated: 01/05/14 1:33pm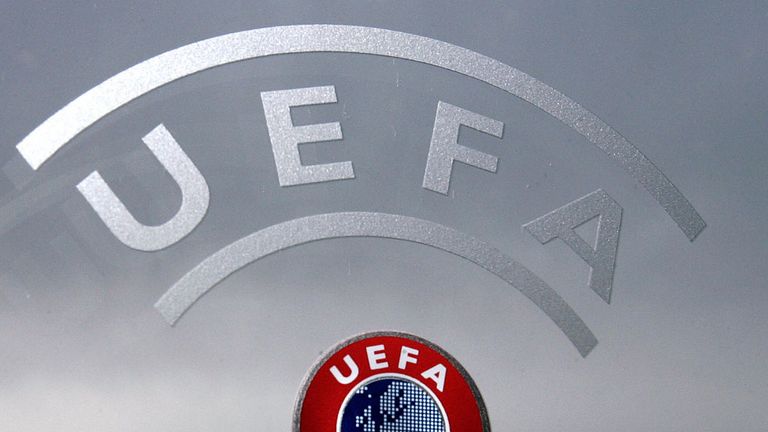 Two clubs thought to be involved but not yet officially confirmed by UEFA are Manchester City and Paris Saint-Germain.
The investigatory chamber of UEFA (CFCB) will meet over the next two days in Nyon, Switzerland, and approve settlement offers and penalties agreed with football clubs they have found guilty of excessive overspending.
UEFA and the clubs have to agree to the penalties. If no agreement is made, then the outstanding cases are referred to a higher body within UEFA - the adjudicatory chamber.
Settlement offers will not be rubber-stamped by the investigatory chamber until next week and until then, the clubs are not expected to be publicly named.
Manchester City are believed to be one of the clubs involved and could face sanctions for huge overspending under the ownership of Sheikh Mansour. The club and UEFA refuse to confirm or deny that they are being investigated.
UEFA's Financial Fair Play Regulations allow clubs to lose £37.2m after certain exceptions are discounted.
City posted losses of £149m between 2011-14 after massive spending, which included buying Sergio Aguero, Gael Clichy, Javi Garcia, Samir Nasri and Matija Nastasic.
Chelsea, Arsenal and Manchester United have told Sky Sports News they are not under investigation.
If a club agrees to accept a guilty charge and accepts UEFA's sanctions, they could face a cut to their squad and heavy fines.
This could leave them unable to register a full 25-man squad for the Champions League next season, potentially denying them use of millions of pounds worth of their own talent and hurting their ability to recruit players this summer.
Clubs under investigation were given until Thursday by UEFA to agree to a "settlement offer" that both UEFA and the club agree on.
If clubs cannot agree to accept the penalties and their guilt, their case will transfer to the CFCB's adjudicatory chamber, which would assess the case from scratch to see if they breached FFP and, if so, what punishment to impose.
UEFA has previously said that fighting charges would put a club at risk of a more severe penalty, including expulsion from the Champions League.
If City has been found guilty and agrees to settle their case, FFP rules allow Premier League rivals such as Arsenal and Everton to challenge sanctions they deem too lenient.
The other Champions League clubs could argue that City's breach hampered their chances of finishing third or fourth in the table, and therefore harmed their European qualification hopes.
Paris Saint-Germain is another club reported to have been found guilty of breaching FFP by the CFCB's investigatory chamber.
The UEFA president, Michel Platini, told Le Parisien last week: "Significant sanctions will hit the big clubs. The first decisions will be announced in early May.
"But if you expect blood and tears, you will be disappointed. There will be some tough things but, I think, no exclusions from European competitions."