Premier League: Martin Demichelis glad title race is in Manchester City's hands
Manchester City's Martin Demichelis admits he is relieved that the Premier League title race is in his side's hands.
Last Updated: 03/05/14 4:44pm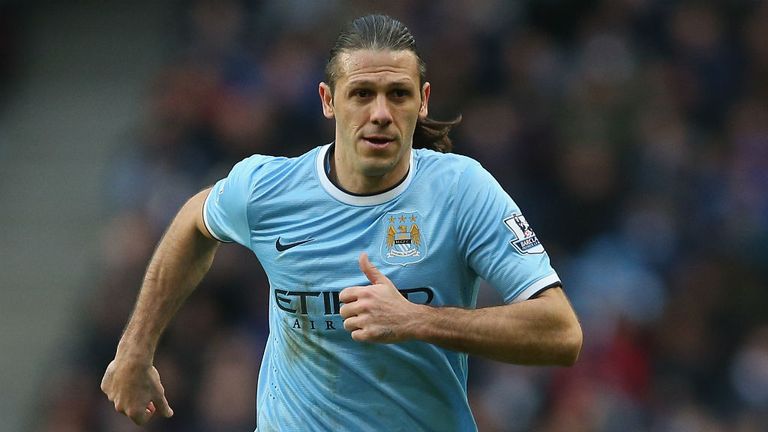 Chelsea's victory at Liverpool in last Sunday's vital clash put City back in pole position to claim their second Premier League title, and if Manuel Pellegrini's men win their final three games, they cannot be stopped.
Ahead of City's tricky trip to Everton on Saturday, Demichelis admitted that being title favourites suits his side, and prefers not to be hoping for other results to go their way.
"The most important thing is that it is up to us again," Demichelis told The Guardian.
"Before we were wondering about others, now we can focus on ourselves.
"Everton is the key, it's a massive game and a difficult place to go.
"If we can win there it will give us a huge morale boost, and with Liverpool playing on Monday it could also have an impact on them."
The much-maligned Argentine also admitted his mistake which led to his sending-off in the UEFA Champions League clash against Barcelona still weighs heavy on his mind, but insists blaming him solely for City's exit is very harsh.
"The mistake I made with Lionel Messi in the Barcelona game was the worst, that's when everything came to a head," Demichelis added.
"I was actually having a great game against Messi, probably my best for the club up to that point. I know how things work in football.
"I'm not one to name names but events leading up to that incident were not perfect either.
"Errors had already been made, I still got the blame. That's when you need to be strong.
"I would have been worried if I had not been winning my individual battles, if I had been missing tackles or making bad passes.
"But as none of those things were happening I remained calm, I knew I could get back to the level I was used to, and that is what has happened"