Premier League: Vincent Kompany urges Manchester City caution after win over Everton
Vincent Kompany has insisted that Manchester City will not get carried away about climbing to the top of the table.
Last Updated: 03/05/14 10:49pm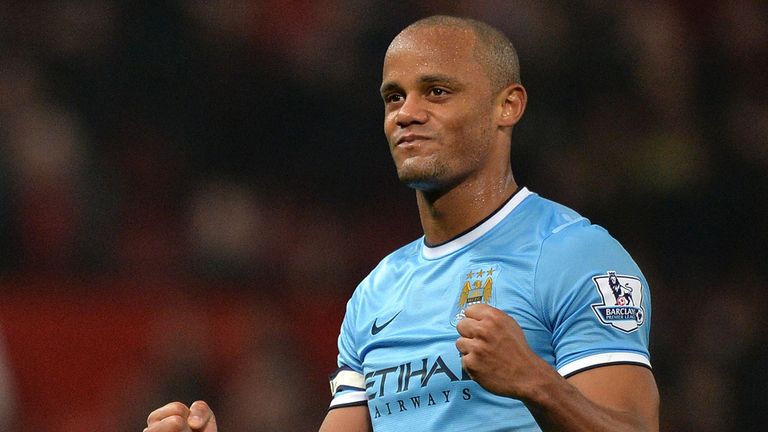 City battled back to beat Everton 3-2 on Saturday and are set to become champions if they can win their final two matches, which are at home against Aston Villa and West Ham United.
Manuel Pellegrini's men have an excellent record at the Etihad Stadium but Kompany is taking nothing for granted yet and has urged caution, pointing to City's 2-2 draw at home to Sunderland last month as an example of how unpredictable football can be.
"Ultimately it's two games at home but it doesn't mean anything," he told Sky Sports. "You saw the Sunderland game and how tough it was.
"Hopefully we'll just play like we can, we have a strong home record and we have goals from everywhere on the pitch."
Speaking about the clash with Everton, Kompany said: "It was very hard and very intense, but ultimately we got a great result."
City had to stay strong to hold on for a win and Kompany says the back four can be proud of how they have adapted to a different style under Pellegrini.
He explained: "Our defensive record has improved. A lot of credit has to be given to the defenders for the season we've had so far.
"In the previous seasons we played in a defensive system and we always had the best defence in the league.
"Now we are playing with a bit of a different system and it is more difficult and therefore I think we are doing ever so well."
Goalkeeper Joe Hart also pulled off some good saves and Kompany added: "He was unbelievable. You guys are getting him in form at the right time I guess for the World Cup."