Premier League: Man City's Yaya Toure admits title race is tough on his family
Manchester City midfielder Yaya Toure admits this season's title race is stretching his family's loyalties to the limit.
Last Updated: 12/05/14 11:45am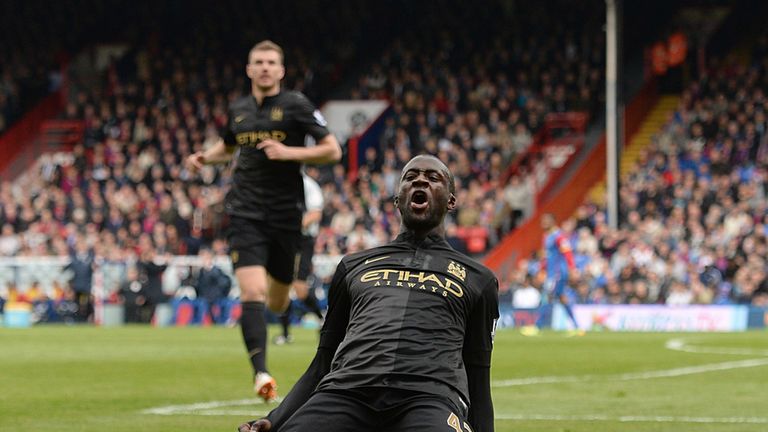 City's 3-2 victory at Everton on Saturday means they hold an advantage in the chase for the championship over Liverpool - the club of Toure's brother Kolo.
The Reds will return to the top of the table with victory at Crystal Palace in Monday's live Sky game but City's extra game and superior goal difference would mean they remain in control of their own destiny.
Chelsea are one point behind and remain in the chase but their 0-0 draw with Norwich on Sunday makes them outsiders with only one game to play.
When asked how the title race had affected his family, the younger Toure brother responded: "Oh yes, it's been really difficult. You can't imagine how difficult.
"Your family have to try to be balanced - they are divided. Sport is unbelievable in that it can break hearts.
"If it is my brother who wins it I would still be happy for him. It would be amazing for him.
"But whatever I'm doing I always try to win - I've always been the same. I will only lose if someone is better than us.
"But it's still so tight - Liverpool still have a chance and so do Chelsea - they beat us twice, don't forget. It's going to be exciting.
"The family don't want to choose a side. We don't know how it will end.
"They just say 'the best team will win it'. They know that both teams have the quality to do it so let's wait and see."
Two years ago, City won the title on goal difference after a Sergio Aguero goal in injury time gave them a 3-2 win over QPR to pip city rivals United to the crown.
With home games against Aston Villa and West Ham to come, it appears as though the title race could go down to similarly fine margins again.
"We know at this club how important goal difference is," added Toure. "But I don't want to live through something like that again.
"We had QPR at home when it was almost too much for my heart. Going right to the last minute - it was unbelievable.
"I think the supporters would say like me that we don't want to live through that again. I hope this time, in these two games, we can make a difference earlier and get the wins early.
"Aston Villa and West Ham are coming. We need to be sharp. We need to be ready.
"We need to be well prepared for these games and not make it so close as last time.
"But we cannot just think we will finish on top. Premier League games are always tight, always difficult.
"Even if teams are defending they can go on the counter-attack and score goals.
"We are aware of that but with the players we have and the experience we have of 2012 we can keep on going - we are just two games away."