Premier League: Man City boss Manuel Pellegrini expects title after Aston Villa win
Manuel Pellegrini is confident Manchester City will become Premier League champions after beating Aston Villa 4-0.
Last Updated: 11/05/14 2:09pm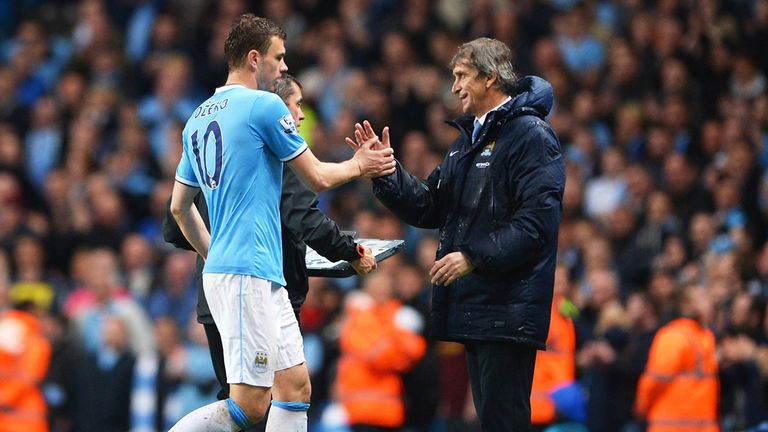 It took City until the 64th minute to break the deadlock at the Etihad Stadium but they ran out convincing winners as Edin Dzeko struck twice and then Stevan Jovetic and Yaya Toure netted late on.
The result leaves City two points ahead of Liverpool ahead of their final game of the season, against West Ham United on Sunday, and a draw will be enough due to their superior goal difference.
While he is refusing to get carried away, Pellegrini is now allowing himself to think about winning the title.
He said: "Now we can talk about the title because if we win the next game we are going to win the title.
"We could not do the same before this game because we had to beat Aston Villa.
"Of course I expect to win the title because now we are top of the table.
"It has been a strange season maybe because we were never top of the table.
"Everyone said we were favourites but we were nine points behind Liverpool and eight points behind Chelsea.
"We had three games in hand but we must win all those games. Now we are top of the table and I hope we are not going to lose next Sunday."
Pellegrini says that he urged his men at half-time to keep their patience and not become frustrated at having to play against a defensive-minded Villa side.
"It was a very big test because it was not an easy game. We know that we had to win and I think the team played very, very well," he told Sky Sports.
"We were very patient in the first half. They had just one chance to score.
"It is not easy to play against a team with 10 defenders but I spoke to the players and told them to continue the way they were going because I thought we were doing very well.
"I was absolutely sure that we were going to score and now we have to win our last game to win the title."
City needed two late goals against Queens Park Rangers to clinch the title in 2012 but Pellegrini is hopeful that his side will not endure quite such an anxious afternoon against West Ham before becoming champions.
He is aware that no opponent can be taken for granted but says it is a very different situation.
"I didn't see the game. It was another team playing another way so I don't think about that," he explained.
"QPR against Manchester City or Crystal Palace against Liverpool, with so many years in football you know that every game counts and every team can win any game.
"I think that now it is another team and another way of managing the team."
Skipper Vincent Kompany is keen to ensure Pellegrini's side do not get ahead of themselves and get the job done on Sunday.
"We need to stay focused," he said. "It feels like we just have to do everything right again and then hopefully we'll be able to enjoy a good day on Sunday. But the job is still there to be done.
"When you start a game as a huge favourite and you know the other team is going to come and defend for their lives, it's easy to become impatient. I think we dealt terrifically with the pressure, with the situation and we can take that into the next game.
"I expect a similar kind of game against West Ham. Anything is possible, the main thing you have to carry with you in football is belief that anything can happen. We did that and now we've put ourselves in a position again where it's in our own hands.
"I'm sure Liverpool players and fans will hope, so therefore we just need to be careful and do our job."