Premier League: No nerves for 'ice-cool' Manuel Pellegrini as Manchester City close on title
Manuel Pellegrini will call on a cool demeanour acquired over the decades as Manchester City seek to seal the title.
Last Updated: 11/05/14 2:06pm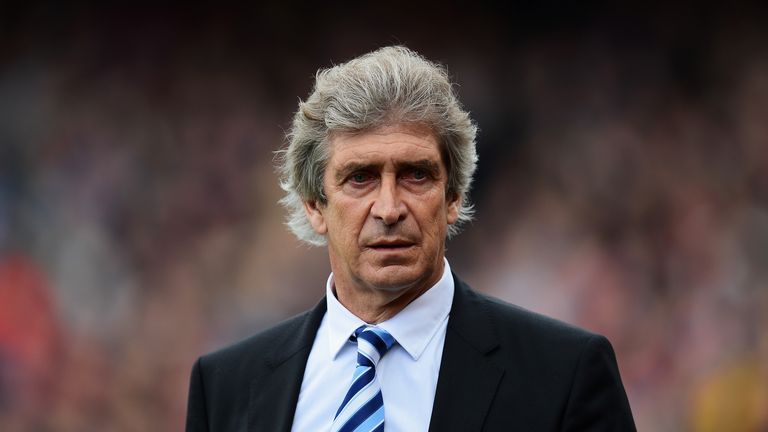 City will regain the crown they surrendered to the red half of Manchester last season if they avoid defeat at home to West Ham on Sunday, their vastly superior goal difference to Liverpool meaning a draw will realistically do.
Pellegrini recalled his wilder playing days in Chile when he spoke to the media ahead of his team's final hurdle and believes his tranquil influence has been key to success in the dugout.
"I think when I started this career I had, absolutely, a different character," the 60-year-old said.
"As a player I was a different character to the one I am today but to prepare to be a manager I think you must change a lot of things.
"One of things I was absolutely sure I must change was my character. You have to understand you are not a player and have another attitude with the players."
The former Malaga coach, enduringly unflappable as the title momentum has shifted back and forth, dismissed the idea of nerves on the decisive day.
"I know how to control (them)," he added.
"After so many years, it is very important to control your emotions because when you have to take decisions under emotion, normally you do it the wrong way."
Pellegrini declared himself confident of lifting the Premier League trophy after Wednesday's 4-0 defeat of Aston Villa but insisted he would prepare his side as had done all season.
"I think it is very important of the manager to be calm, to try to repeat what we did the whole year," he said.
"I am not complacent because I talk with the players every day about what we must do.
"They are good players with lots of experience and I think they agree with me we must not change anything and try to win the game."