Premier League: David Silva applauds Manuel Pellegrini impact at Manchester City
Manchester City's David Silva has praised the "joy and happiness" brought to the Etihad Stadium by Manuel Pellegrini.
Last Updated: 10/05/14 12:54pm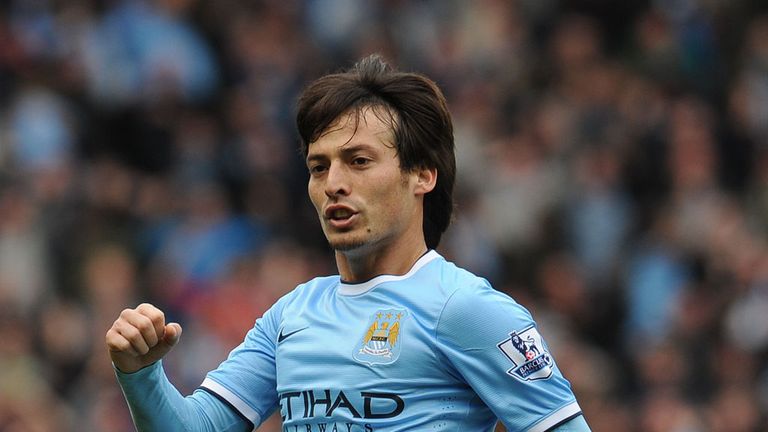 Although Pellegrini's predecessor Roberto Mancini claimed an FA Cup title and led City to their first championship in 44 years, his difficult relations with players were well-documented.
However, Spain international Silva believes Pellegrini has brought an air of serenity to Eastlands and has hinted his own future at the club is safe.
With City on the verge of claiming a second Premier League title in three years, Silva believes Pellegrini's approach has been pivotal.
"He's made it a happy place," the Spaniard told The Guardian. "He's brought a joy and happiness around the place.
"Also to our style of play. You see that in the way we play, attack-minded, lots of goals. He's made us competitive in every competition, we've gone further in them. He's given us that extra push and taken us one step further maybe.
"His calmness has been obvious. He's added that to the whole club. And it really helps us at difficult moments. It's nice to have that calm attitude around you when things get tough. That has suited us."
Style
Alongside a healthier atmosphere in the dressing room, Silva believes being under the tutelage of Pellegrini has allowed him to thrive on an individual level.
"Having Manuel here has helped me personally," the 28-year-old said. "It's been really good for me.
"He's suited me down to the ground. My style of play is more suited to an attacking style. He's helped me develop as a player. You always want to improve as an individual."
Silva admits he is settled at the Etihad Stadium and claims it has been a good year for him after overcoming injuries earlier in the season.
"I've always said I'm really happy here," he added. "Nothing has changed. I'm totally happy."
"It's been a good year for me. I've felt good in myself. I had a couple of injuries earlier on."
Silva's problems have revolved around his ankles but claims he is more than prepared to play through to pain and ensure he is prepared for this summer's World Cup.
Suffered
"I've suffered with this ankle problem, I'm still feeling it and I've been playing through the pain," he said. "If I get through this game, I can get some rest and be fit and ready for the World Cup.
"I've been playing through pain for a while. I got caught on the same spot against West Brom [last month].
"It was slightly worse than we thought so I had to miss Palace. I managed to come back against Everton [last Saturday]. You have to get through, help the team, work hard and get in there for the final push.
"After two weeks' rest, everything will be fine for the World Cup."
Silva has won two European Championships and the World Cup with Spain but admits playing in the Premier League poses a contrasting challenge.
"It's difficult to compare them but with the Premier League it's very tough to win it," he added. Everyone knows that and that's what makes it special.
"It's different to a World Cup or a Euro. This is something you work for the whole year. It was great to win it the first time - and the motivation to do it again is very high."