Premier League: Manuel Pellegrini reveals squad unrest when he arrived at Man City
Manuel Pellegrini admits that he had to work hard on healing a number of rifts at Manchester City when he took charge.
Last Updated: 12/05/14 11:05am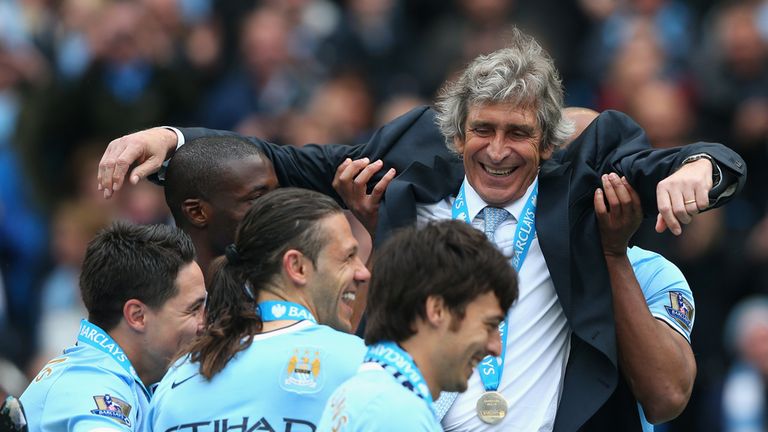 The Chilean became the first non-European to ever win the English top flight as City were confirmed as Premier League champions on Sunday with victory over West Ham.
But Pellegrini admits that things have not always run so smoothly, especially when he arrived at the Etihad after succeeding Roberto Mancini.
"From the moment I arrived here, relations between players were not at the best moment," Pellegrini revealed.
"So it was important to have calm and convince all of them how to play and how important it was to be very close - players, fans, staff, all of us - with the manager, players and fans to try to win a very difficult title.
"But I am very proud to manage this group of players and this club."
The mild-mannered South American admits that he does get angry and their shock FA Cup defeat against Wigan was probably the most annoyed he got.
"Yes, I lost my temper after we lost to Wigan [in the FA Cup], because that was the worst moment," he said.
"If we had won that game and gone to the final, maybe it would have been difficult for us to be in this position of having won the league, though, because we have played maybe 12-14 games more than Liverpool and we would have then had more to play."
Key moments
Pellegrini believes the whole season came down to two key moments.
"One of them when we played the first six games away and had just four points," Pellegrini said.
"I spoke with the players and we continued playing the same way because I don't think we deserved to lose those points. From that moment, I think the team has most points playing away.
"The second moment was after we played away against Liverpool, we didn't deserve to lose 3-2, we didn't have the option to win the title. But we never gave up the hope Liverpool could lose points. It was not the best week, but we won the last five games.
"I think this club has been working in the last four years. It was a big team with fans but it was not fighting for the title. In the last four years it changed. It started two years ago with Roberto Mancini when he won the title and a cup. We try to continue improving. In the future we will try to continue winning."